How You Can Get Battlefield 4 DLC For Free Right Now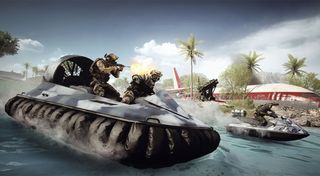 (Image credit: Electronic Arts)
Electronic Arts and DICE are continuing to give away free content for Battlefield 4 leading up to their reveal of Battlefield _'s campaign mode. The free DLC is the _Naval Strike content, which came out two years ago back in March. It's available right now for Xbox, PlayStation and PC gamers.
Over on Gamespot, they detailed how Xbox 360, Xbox One, PS3, PS4 and PC games can each get their hands on the Naval Strike DLC without paying a dime for it. It'll only be available for a limited amount of time during the promotion EA is running in part with Battlefield 4 in order to help promote the upcoming Battlefield 1.
For Xbox owbers you can get your hands on the free DLC from the Xbox Store for the Xbox 360 (opens in new tab) or Xbox One (opens in new tab). For PlayStation owners you can get your hands on the free DLC from the PlayStation Store for the PS3 or PS4. For PC gamers, you'll have to get the DLC from Origin.
The Naval Strike DLC contains four all new maps across the south China sea, giving gamers the Lost Islands to battle across, the Nansha Strike to rush through, Operation Mortar to brush up on your siege skills and Wave Breaker for battling across the rocky waves to control a naval base.
The Battlefield 4 DLC contains five brand new weapons, including three new grenade launcher attachments, and the new hovercraft vehicle, which can glide across both land and sea.
But that's not all. The Naval Strike expansion is also accompanied by several other DLC packs that are also being handed out for free, including Battlefield 4's _Night Operations, _which launched back on September 1st, 2015. It's a night-themed pack with a brand new map, six modes to play across and various night-enhanced gadgets to make use of.
EA and DICE also have the free Community Operations and Legacy Operations available for Battlefield 4 as well. It's literally a barrage of DLC being carted out for free.
This is all in attempts to keep the hype levels maintained for Battlefield 1 and get gamers enticed into the series before the next game launches this October.
EA and DICE knocked it out of the park with the World War I shooter's debut earlier this year when they rivaled the reveal of Activision's Call of Duty: Infinite Warfare, the latter of which went on to garner millions of dislikes and lots of scorn from the gaming community. The opposite is true for Battlefield 1, which is currently riding high with a lot of hype and a lot of praise and a lot of interest from gamers.
Supposedly, there's going to be a campaign mode for the game but DICE have yet to reveal it, but I imagine they'll do so well ahead of the October release.
According to Gamespot, EA and DICE have also been giving away free content for Battlefield: Hardline, _ the unloved outing of the _Battlefield series. Even still, the publisher wants to make sure fans of the series are getting as much free content as possible and getting as geeked and hyped as possible leading up to the release of Battlefield 1 for the Xbox One, PS4 and PC.
Your Daily Blend of Entertainment News
Staff Writer at CinemaBlend.