What You Get When You Pre-Order Civilization 6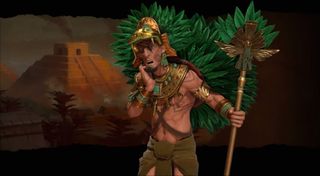 (Image credit: 2K Games)
The upcoming Civilization 6 will feature a number of bonuses for those who pre-order the game to gain access to it as soon as possible. Some of the pre-order bonuses that were revealed might make some fans happy, especially if they're history buffs with a penchant for Aztec culture.
Shacknews is reporting that the pre-order bonus for Civilization 6 features early access to the Aztec Civilization Pack. Gamers will gain access to the pack 90 days earlier than everyone else and will be able to play around with with all new units, including the Eagle Warriors -- who were an elite unit of young soldiers who captured prisoners used for sacrifices -- as well as a unique building such as the Tlatchli. It includes a brand new Wonder as well, known as the Huey Teocalli, which was used to maintain some of the more important rituals carried out by the Aztecs.
In addition to all of this, the leader of the Aztec pack will be none other than Montezum, the famed fifth king of Tenochtitlan, and one of the longer reigning emperors of the Aztec empire. Firaxis released a new promotional video to give gamers their first look at the Aztec pack, which you can check out below.
The video only clocks in at two minutes, so you won't need to spend a lot of time watching and listening to the developers talk about the pre-order bonus. It basically gives gamers and Civilization fans alike a visual look at how the new DLC pack looks and some of the special bonuses that come along with playing as the Aztecs.
For instance, Montezuma has a special bonus that allows the Aztec to gain more luxuries for their cities as well as help increase their military's fighting power.
The video also explains that the Eagle Warriors in the upcoming Civilization title will be able to defeat enemy units and turn them into builder units. This is especially useful for people who may not be keen on waging war, but want to grow their empire without expending a lot of resources. Essentially one's military can be used to help supplement the building aspects of the empire by capturing and turning enemy units into builders.
Firaxis also manages to streamline the Eagle Warriors' capturing into bonuses for building. If you're playing as the Aztecs in Civilization 6, you'll be able to use an additional builder bonus to speed up the construction of certain districts. This means that the stronger and more resilient your Eagle Warriors are, the more capable they are at capturing enemies and turning them into builders, and the more builders you have the more bonuses you'll get for building districts. Rinse and repeat ad infinitum and it's easy to see how you can grow an expansive and powerful civilization with the Aztecs in no time flat.
While pre-ordering will net you access to this particular empire 90 days earlier than everyone else, when the Aztec Civilization Pack does release, it will be available at no extra cost for those who purchase the latest Civilization game.
You can look for the upcoming empire management game to launch exclusively for PC starting October 21st.
Staff Writer at CinemaBlend.
Your Daily Blend of Entertainment News
Thank you for signing up to CinemaBlend. You will receive a verification email shortly.
There was a problem. Please refresh the page and try again.