How Pokemon Go Just Made History For Apple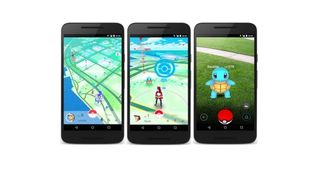 We all knew that Pokemon Go was a huge hit for all parties involved, but it looks like the game has actually broken a pretty significant record for Apple over on the App Store.
Pokemon Go became Apple's most downloaded game in its first week on the App Store. So in its first seven days, it was downloaded more than any other app in the service's history, which is a pretty impressive feat.
That's extra impressive when you remember that Pokemon Go did not celebrate a worldwide launch like many other big App Store titles. No, it only launched in the United States, New Zealand and Australia during its first week, with major territories in Europe being added about a week later, and Japan only getting in on the action about a day ago. In other words, if Pokemon Go had record-breaking first week numbers while only launching in three territories, we imagine it's going to have insane first month figures now that it's got folks catching 'em all across the globe. In case you're curious what the difference is, Pokemon Go launched in three countries for its first week, which is all it took to break this record. To date, it's now live in 26 countries...Yeah.
So what does all of that mean, exactly? Well, money, if you're in the right position. Nintendo's stock skyrocketed following the launch of Pokemon Go, as it was announced the game was making billions of dollars in its opening days. Most of that money goes to Apple and Google, actually, since the game is hosted on their platforms, but we imagine it has provided a nice shot in the arm for Nintendo and the development team at Niantic.
Apple confirmed all of this big news via Techcrunch, but you only needed to be following basic gaming news sites to get the idea that Pokemon Go is something special. We're aware that a lot of stories revolving around the game are circulating, but that's because you crazy folks are hungry for all things Pokemon Go. From folks getting lost in caves to running into trees or even cop cars while playing the game, Pokemon Go has evolved into an absolute phenomenon.
And it's not just on the internet, either. People are actually playing this game in droves and, since it's on a smartphone and requires you to walk around, it's a trend we can literally see in motion. Local parks are filled with folks out on a "Poke'walk" and malls are packed with folks just hanging around, trying to catch some new pocket monsters.
Given the fact that Niantic is already hard at work on patching in requested features, the servers are leveling out and, you know, it's Pokemon, we imagine that the hype train is going to keep on rolling for this one.
Staff Writer for CinemaBlend.
Your Daily Blend of Entertainment News
Thank you for signing up to CinemaBlend. You will receive a verification email shortly.
There was a problem. Please refresh the page and try again.