There's A Mario Cafe Out There, And It's Awesome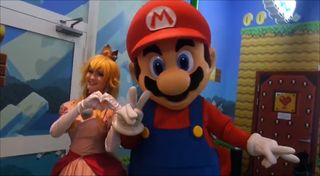 A Webhallen cafe in Stockholm, Sweden was recently overhauled and re-opened as a Mario themed cafe. Two cosplayers managed to attend the event and captured some footage of the grand opening, giving eager fans of Super Mario Bros., a look at the new video game themed cafe.
The video footage comes courtesy of YouTubers Shanti and Stan. The video is just a second under six minutes long, and we get to see some of the delicacies available for purchase at Webhallen, including green mushroom themed chocolate cupcakes.
The Super Mario theme for the cafe came about after the building was renovated and the owners wanted a more lively theme for the cafe. Previously it was known as a cosplay cafe, and presumably they promoted video game cosplaying for attendees. According to the event organizer, they wanted to show people it's a fun and cool place to hang out.
Shanti quips that it's like a cafe and a hang out for nerds, and the event organizer Steffan says that that's "exactly what we wanted".
What's also really cool is that they have game stations set up around the cafe, including a giant screen television with an N64 hooked up to it. It's neat because people can come in, boot up a game and play a few rounds of classics like Super Smash Bros, or take a spin around a few tracks in Super Mario Kart on the SNES.
They also held cosplay contests at the Webhallen cafe, with the winner being a cosplayer of Midna from Legend of Zelda: Twilight Princess. The owner of Webhallen even dressed up for the event, cosplaying as Princess Peach from Super Mario Bros. She mentions in the video that previously the cafe only had a Super Mario themed bathroom, but after they renovated the shop and overhauled the look they decided to completely focus the theme of the cafe on Super Mario. Unfortunately we don't get to see a full tour of the shop from front to back, but what little we do get to see seems pretty cool.
It's a neat little setup and looks like the kind of place where you could easily burn several hours in the day without even realizing it.
The news about this cafe opening (or rather, re-opening) follows behind the news that Nintendo has other officially themed cafes and food outlets that have opened up, such as Kirby's eatery over in Japan, which was announced back in July last month. Nintendo also has a theme park section opening up in Universal Studios featuring various characters and brands from their popular franchises.
All of this Nintendo stuff opening up and making its way into the mainstream public is a great way to build hype as Nintendo preps for the official release of the Nintendo NX next spring. One way of really helping get the word out is if they partnered up with some of these video game themed cafes and had kiosks available of the NX to help give patrons an idea of what to expect from the console.
For now, if you have any intentions of visiting Stockholm, Sweden, you can check out the Webhallen cafe, now themed after one of the most popular video game characters of all time.
Staff Writer at CinemaBlend.
Your Daily Blend of Entertainment News
Thank you for signing up to CinemaBlend. You will receive a verification email shortly.
There was a problem. Please refresh the page and try again.