Super Smash Bros. Is Adding Two More Characters This Week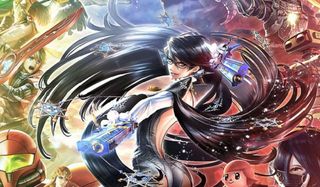 Thanks to a pair of new videos and a tweet straight from Nintendo, we now know when the final two characters in the Smash Bros. roster will be introduced to the game. Get ready to battle as Bayonetta and Corrin later this week.
Back in early December, Nintendo held a special Direct dedicated exclusively to Super Smash Bros. for the Wii U and 3DS. They promised they'd outline all future plans for the game, save a small detail or two. While the direct introduced us to the final Smash characters (Bayonetta from Bayonetta and Corrin from the upcoming Fire Emblem Fates), we only had a vague "February 2016" launch window for the newest additions to the game.
This past weekend, a pair of videos popped up on the European Nintendo Youtube account showing off both Bayonetta and Corrin in action, as well as the new stage based on Bayonetta, Umbra Clock Tower. The trailers end with a Feb. 4 release date though, again, this was only confirmed for the European territory.
Nintendo of America didn't leave us hanging much longer, though, as the following tweet went on to confirm that both Bayonetta and Corrin will be joining Smash in our region this week, too, arriving a day earlier on Feb. 3.
Bayonetta and Corrin will also be joined by the final batch of Mii costumes, including an adorable chocobo hat, a bunch of characters from Sonic and more.
As for those trailers, let's check out Bayonetta and Corrin in action first.
Both characters move super fast and have what appears to be a fun bag of tricks at their disposal. Corrin's outfit and weapon appears to morph on the fly, making them a very versatile character when going one-on-one. It'll be interesting to see how Corrin handles a crowd.
Bayonetta, on the other hand, is more of a close-range fighter, with plenty of combos that make it dangerous to get too close to her. She's not completely lacking at range, though, with several of her summons packing a punch at mid-range. She's also got that spiffy time-slowing field that can be used to trap an opponent and make them an easy target for a pummeling.
Speaking of the Bayonetta series, that's exactly where the latest and final Smash map hails from, too.
Basically, you're all fighting on the face of a giant clock tower that has broken free and is falling down what appears to be an impossibly tall mountain.
I'm thinking all of the interactivity has been turned off for the above video, because I could have sworn that additional platforms and interference from those creatures in the background came into play when the stage was originally shown off. Otherwise, we're looking at a bit of style over substance here, with plenty of neat stuff happening around a very small platform.
So get ready for Wednesday, Smash fans, because the fight is about to become fiercer than ever.
Your Daily Blend of Entertainment News
Staff Writer for CinemaBlend.