Nintendo NX Console Is Coming Earlier Than We Thought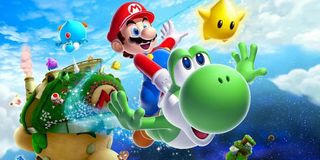 Nintendo hasn't formally announced their new console, codenamed "NX." However, a new report suggests that the mysterious gaming device will be here before we know it.
Digitimes states that the Nintendo NX will enter mass production by the end of the first quarter of 2016. Mass shipments will then begin in the second quarter. That's a lot sooner than expected for a console we know essentially nothing about.
Nintendo first hinted at their new console eleven months ago, when Mario creator Shigeru Miyamoto said that the franchise could go in a different direction on "their next hardware system." Two months later, Nintendo's then-president Satoru Iwata revealed the console's codename and promised they would share more details in 2016:
All we've heard about Nintendo NX since then have been rumors and speculation. There was a report that NX would have an Android operating system, which Nintendo quickly denied. In July, a different publication said that the device would have virtual reality and augmented reality gaming. Then, Nintendo filed patents for a console without a disc drive and sent everyone into a tizzy.
The most recent rumor from October stated that NX development kits are already being sent to studios. That sounds plausible if the console's really launching in mid-2016.
The prospect of a new console in 2016 has been met with a mixed reaction by Nintendo fans. On the one hand, new hardware is always exciting because it opens up new possibilities for gaming. On the other hand, many Wii U owners and 3DS owners feel that a new console means fewer games for their current hardware. Iwata said this summer that the company would keep supporting 3DS and Wii U after the launch of NX but how long would that last?
Whenever it launches, the NX will face stiff competition from the PS4 and Xbox One. The two consoles have built up substantial user bases at this point and are already coming down in price since their debut two years ago. However, Digitimes thinks that the NX can be competitive. They're projecting the console to ship between 10 and 12 million units in 2016, compared to 13 million for Xbox One and 18 million for PS4 in that year. I'm not putting too much faith in those projections just yet, though. Again, we know basically nothing about the console's features and its launch date is still unconfirmed.
Staff Writer at CinemaBlend.
Your Daily Blend of Entertainment News
Thank you for signing up to CinemaBlend. You will receive a verification email shortly.
There was a problem. Please refresh the page and try again.