How To Get More Egg Incubators In Pokemon Go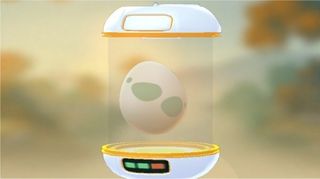 (Image credit: Niantic Labs)
Playing Pokemon Go and you want to hatch eggs faster but you're not really sure how to go about that? Well, there's a process involving Egg Incubators in the game and there are a couple of ways to get your hands on them to help speed up the process of hatching eggs. So how do you get more Egg Incubators?
Level Up
The first method is pretty straightforward. Pokemon Go will start you with an Infinity Incubator. This Incubator will not break and will not go away. You can use it an infinite amount of times to hatch eggs. But you can only hatch one egg at a time using the Infinity Incubator. As you level-up, however, you can gain access to additional Incubators that can be used to hatch multiple eggs at one time.
At various level intervals you'll gain access to 3x Incubators. These Incubators can only be used three times to hatch eggs, but according to Eurogamer you'll be able to get a total of 13 free Incubators by simply leveling up.
You'll get one at:
Level 6.
Level 10.
Level 15.
Then you'll get two at level 20.
Another at level 25.
Three of them at level 30.
Four at level 40.
For now, level 40 is the max level in Pokemon Go. If you want more incubators after that, you'll have to...
Buy Them
There are Egg Incubators available for purchase from the Pokemon Go cash shop. If you're in need of additional Incubators because your Infinity Incubator is always in use, Niantic Labs offers players the option to buy Incubators in packs of three for 150 PokeCoins. The Incubators available in the cash shop are all limited use and can only be used three times. You cannot buy an Infinity Incubator, unfortunately.
It's been suggested by some veteran players to only use the limited-use Incubators on 10km Eggs. For those of you who don't know, Eggs in Pokemon Go come in 2km, 5km and 10km forms. You'll have to travel the required distances (tracked by the Pedometer and GPS) to hatch the Egg from an Incubator. Using the 10km Eggs in the limited use Incubators is said to give you more bang for your buck (since 10km Eggs contain rarer Pokemon). Some suggested to only use 2km and 5km Eggs in the Infinity Incubator.
Where Can I Get More Infinity Incubators
A lot of players putting in time into Pokemon Go have been curious about where they can get more Infinity Incubators from. It's an infinitely helpful item that cuts down on costs as well as limits the amount of grinding required to unlock the limited-use Incubators you get from leveling up. Unfortunately there haven't been any legitimate means to get your hands on another Infinity Incubator.
Some users on Reddit haphazardly stumbled upon a glitch that allowed them to make use of both the Infinity Incubator and the 3x Incubators to hatch all their eggs at once, but it's likely that Niantic Labs fixed that glitch. Others have suggested to Niantic to add more ways to gain access to another Infinity Incubator in Pokemon Go, but for now you can only gain access to the one given to you at the start of the game. And outside of leveling up or purchasing the Incubators from the Pokemon Go cash shop, there no other alternatives for getting your hands on the items legitimately.
Your Daily Blend of Entertainment News
Staff Writer at CinemaBlend.