A Second Person Has Died In Japan Playing Pokemon Go, Here's What We Know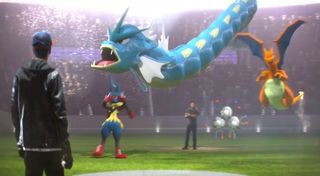 (Image credit: Niantic Labs)
Following close behind the news that two elderly women were hit by a driver playing Pokemon Go in Japan, another news story has surfaced from the region, indicating that a woman hit by a driver a few weeks ago has died from her injuries. The driver had been playing Pokemon Go.
Gamespot picked up the news from the Japan Times, where they quoted the most relevant piece from the story as to how the incident originally occurred, stating...
So technically, it was and was not due to Pokemon Go. He wasn't actually in the middle of catching Pokemon when the accident occurred, instead he had just finished playing the game and was attempting to charge his phone because the battery had died in result of playing Pokemon Go. So while attempting to charge his phone, he had the unfortunate accident with the female cyclist who was in her 20s.
Originally, the cyclist was taken to the hospital to be treated for her wounds after being hit. However, after two weeks had passed, the victim tragically died.
Police had first detained and then released the driver on negligence charges, but now that the woman has passed police have gone back to detain the driver on negligence charges that resulted in a death.
According to Gamespot, there have been 79 bicycle and car accidents that have occurred since Pokemon Go was released in Japan. Recently, a man had accidentally hit two elderly women who were crossing the street because he was playing Pokemon Go while driving. One of the women died from her wounds, while the other was put into critical condition.
Niantic Labs warned people about safety measures when playing the game, and some civil service authorities have also warned players about being more cautious when playing, but not all of those warnings are being heeded.
Some of the commenters on the Gamespot article feel as if Pokemon Go is receiving a bad rap due to the negligence of users who are not putting safety first, while others feel as if Pokemon Go compounds the distractions in our already tech-abundant lives. There's really no easy answer to addressing these issues, because it's not really Niantic Labs' fault that some people are choosing to play the game while driving, working machinery, or walking near a cliff side. It's a touchy bit of subject matter when it comes to an entity being directly tied to someone's death.
Nevertheless, expect more aggressive advertising and warnings about safety practices when using Pokemon Go and avoiding driving or other hazardous activities while the app is active.
Staff Writer at CinemaBlend.
Your Daily Blend of Entertainment News
Thank you for signing up to CinemaBlend. You will receive a verification email shortly.
There was a problem. Please refresh the page and try again.