New VR Title From Co-Creator Of Rick & Morty Is Bizarre, NSFW. Check Out The Trailer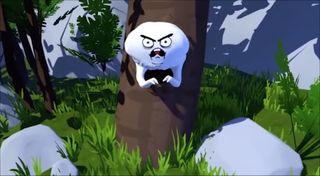 A new trailer was released for the upcoming game from Crows Crows Crows and Squanchtendo called Accounting. It's a game from the co-creator of the popular cartoon Rick & Morty and it's a first-person romp through hilarious scenarios. There's a NSFW trailer to prove it.
The trailer was posted up over on the Crows Crows Crows YouTube channel. The whole thing is narrated by the protagonist, Derek Smith, and it starts with a look at Smith's office setting where the player moves a floating, cartoon hand around to rummage through files and interact with objects. Things eventually pick up when the player teleports to a foreign land, and a cursing white puff inside of a tree starts throwing around F-bombs like it was a Quentin Tarantino film.
The remaining clips feature things being picked up, things being thrown around, things being examined and a disembodied hand clicking, and moving through various areas. There's a short clip of the player looking at what appears to be a table of bones in a pool of blood, skeletal heads on each side. Another clip shows some indescribable device having another indescribable object being inserted into it.
There's definitely a point-and-click element to the game. Part of the trailer shows the cursor turning into a mouse icon as the player examines a giant bone with a cabinet inside. The cabinet opens to reveal a big bottle of acid. After a couple of quick edits, we then see the bottle of acid being tipped over and poured out within the inside of what appears to be a giant stomach.
Accounting is being made in collaboration with William Pugh, Dominik Johann and Justin Roiland. As mentioned on ShackNews, you might recognize Roiland as the co-creator, co-writer and a voice actor on the show Rick & Morty. The popular cartoon first aired back at the end of December of 2013 and has gone on to become a cult success.
The trailer itself reveals nothing about the actual plot of the game and the YouTube description recounts how numbers and accounting is an "honorable profession" that many have spent their lives toiling over, along with the "thousands" that have died in the process to make those numbers mean something. I honestly have no idea what that means in the grand scheme of Accounting but the trailer makes no effort whatsoever to put the silliness of the description into context.
The game does look like typical VR fanfare that have been hitting the digital store shelves in recent months since the release of the Oculus Rift and HTC Vive. A few other VR titles have come out using similar designs, where players move through a limited space using a disembodied hand and the core of the game is physics-based, where gamers mess around with objects in free space.
I still don't really know what the plot is to the game, but Accounting is set to release soon for SteamVR. There has yet to be a killer app for the VR headsets, so there's ample opportunity for companies like Crows Crows Crows and Squanchtendo to hit it big with a game like Accounting.
Your Daily Blend of Entertainment News
Staff Writer at CinemaBlend.
Your Daily Blend of Entertainment News
Thank you for signing up to CinemaBlend. You will receive a verification email shortly.
There was a problem. Please refresh the page and try again.