Here's What You'll Get For Attending BlizzCon This Year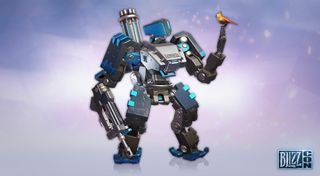 Blizzard Entertainment wants to reward gamers for attending BlizzCon this year... even if you're only doing so digitally. In fact, buying a virtual ticket will net you the same neat rewards for various Blizzard games that those actually attending will receive.
Over on the BlizzCon website, they detail all the in-game goodies you'll receive for purchasing an actual, or virtual, ticket to attend the event, which is scheduled to take place over the weekend on November 4th. The virtual tickets are available for pre-order right now, costing $39.99 each. They grant you access to two live-stream channels where you can view the content unfolding on the convention show floor from the comfort of your home.
The virtual ticket comes with two World of Warcraft characters, Legionnaire Murky for the Horde, and Knight-Captain Murky for the Alliance. There's a free BlizzCon themed livery for Bastion from Overwatch, which features a cool gun-metal torso with navy carbon plates with a dab of shiny electric blue thrown in for good measure.
If you don't play World of Warcraft or Overwatch, Blizzard has you covered with a free Diablo pet for Diablo III. The pet is based on the design of the Dark Lord from the very first Diablo that kickstarted the brand into the stratosphere. And barring your interest in any of those games, there's a free card that Blizzard is giving away for Hearthstone players.
But wait, they're not done! Blizzard also has a free mount that they're giving away for their free-to-play MOBA title, Heroes of the Storm. The mount is a Nexus Tiger, which is a cybernetically enhanced tiger that looks like it came right out of Transformers: Beast Wars.
They rounded out the special gift pack with a new StarCraft II portrait and a special unlockable piece that hints at some new StarCraft II content. Now that's surprising... I had no idea that some new goods were coming to StarCraft. In fact, I thought they were all done with the space-age RTS title. I guess not.
It's also kind of weird that they haven't just gone on ahead and started work on a StarCraft III featuring an all-new storyline and a new set of characters.
You'll be able to unlock the goods close to the launch of this year's BlizzCon by redeeming the digital bonus codes. They also mention that the Diablo III content is only available for the PC and Mac versions of the game, while the Bastion skin for Overwatch can be redeemed for the PlayStation 4, Xbox One or PC version of the game.
Strangely, they mention that the StarCraft II content will be available completely separate from the other games. Weird.
Additionally, they also have a special box of goodies that can be shipped out to you physically if you pay an extra $35 for your virtual ticket. It includes a mug, a hammer, some game dice, and a few other physical trinkets based on Blizzard Entertainment properties. The sale of the merchandise will only be available between October 10th and November 6th, so you'll have to decide quick on whether or not the goods are worth the price of entry.
Your Daily Blend of Entertainment News
Staff Writer at CinemaBlend.