The Witcher Just Received A Major Honor In Poland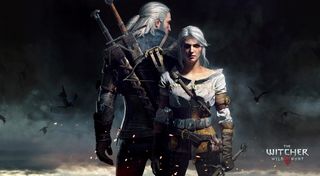 In Poland, The Witcher is somewhat of a national icon. The book series by Andrzej Sapkowski has been around since the 1990s but it wasn't until the game series by CD Projekt Red did Geralt get catapulted into mainstream, so much so that he just received a major honor in Poland.
Yes, Geralt, from The Witcher, will now be on a Polish stamp. This was posted up recently on Damien Monnier's Twitter account, who is working as the lead designer on the upcoming Gwent standalone game based on the mini-game from The Witcher 3.
It must be a cool honor to see The Witcher being recognized on such a national level as receiving a stamp. There's obviously going to be a lot of normies who don't know who Geralt is or why a man with a scarred up face, long flowing white hair and enough swords strapped to him to start up his own independent butcher shop is on a stamp, but I'm sure they'll get used to it in no time.
The Witcher came onto the scene and took the gaming world by storm back in 2007 when the Polish studio, CD Projekt, adapted Sapkowski's novels into a game. The game first released on PC to startling acclaim but tempered sales. It was the first time a medieval, high-fantasy game was so... mature. The subject matter and combat were unlike a lot of other games on the market at the time, and while most gamers were still used to stuff like Everquest and Diablo, CD Projekt came onto the scene and tipped the whole genre on its head.
Keep in mind, though, The Witcher was not an instant success at first. There were issues with piracy that saw CD Projekt dumping a lot of resources into trying to combat it, even going as far as to attempt to sue the pirates. At the time, junk stats were circulating that PC gamers were made up of 95% of pirates thanks to misinformation spread by Ubisoft. Companies like CD Projekt acted on it after seeing some pirated copies of The Witcher circulated. However, common sense and facts eventually prevailed, where the steady growth of Steam revealed that piracy on PC was not as high as some publishers made it seem, and that sales growth on PC was an ample avenue worth pursuing.
CD Projekt changed up their tactics, focused more on delivering great content at a great value, and ended up garnering great success with The Witcher 2. They later ported the second game to the Xbox 360, giving console gamers a taste of the action for the very first time after it originally released on PC back in 2011.
By the time The Witcher 3 was being announced, the series -- and the new pro-consumer stance CD Projekt had take on -- had become widespread throughout the industry. While the first game took some time to gain a steady foothold in sales, the second game moved at a much faster pace on the market, and the third game managed more than 6 million in sales according to GamersNexus.
Geralt went from a niche, adult-themed action-RPG hero to a national icon over the course of nearly 10 years (and even longer if you count the novel series).
While it appears as if CD Projekt has wrapped up The Witcher series in the world of gaming, it's cool see the legacy of a gaming icon make his way onto a national stamp.
Staff Writer at CinemaBlend.
Your Daily Blend of Entertainment News
Thank you for signing up to CinemaBlend. You will receive a verification email shortly.
There was a problem. Please refresh the page and try again.