Witcher 3 Expansion Packs Almost As Big As Witcher 2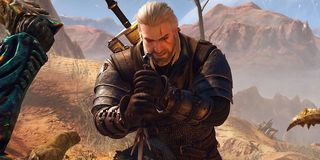 While some game's DLC packs can be played in one sitting, The Witcher 3's two expansions will be far more substantial. CD Projekt RED's Konrad Tomaszkiewicz said in a new interview that the DLCs might provide as much gameplay as Witcher 2.
Tomaszkiewicz told GameReactor that the two expansions provide a combined 30 hours or so:
The first expansion pack is called Hearts of Stone. It's said to feature quests throughout Velen and the city of Oxenfurt, locations players visited in the main game. Geralt is given a contract by a shadowy figure known as the Man of Glass. Given Hearts' 10-hour length, I'm guessing that the mission turns out a lot more complicated than expected.
Blood and Wine, the second expansion, brings players to a brand-new region called Toussaint. Toussaint is a mountainous area in the Nilfgaard Empire. While it hasn't been affected by the war raging through other parts of the world, Toussaint has its own dark secret for Geralt to uncover.
The catch is that players are going to have to wait awhile for these expansions. Hearts of Stone is slated for October while Blood and Wine won't be out until 2016.
In the meantime, CD Projekt has been releasing smaller DLC packs for free each week. These add-ons have introduced new armor sets, alternate costumes for characters, and quests. While the quests are fairly short, they're interesting experiences and worth checking out.
Even without DLC, The Witcher 3 is massive. I've played about 80 hours thus far and I still have side quests to tackle. I haven't even touched that Gwent minigame, either.
Staff Writer at CinemaBlend.
Your Daily Blend of Entertainment News
Thank you for signing up to CinemaBlend. You will receive a verification email shortly.
There was a problem. Please refresh the page and try again.