It Looks Like A Remastered Bulletstorm May Be On The Way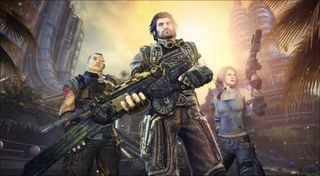 (Image credit: People Can Fly)
Some leaked info appears to indicate that a remastered version of the seventh-gen release Bulletstorm could be making its way to the PS4, Xbox One and PC. The over-the-top shooter was originally published by Electronic Arts, but the remastered version could be coming from Gearbox Software.
Gematsu is reporting that the Brazil Advisory Ratings Board has listed a rating for a game called Bulletstorm: Full Clip Edition, due for release on the PS4, Xbox One and PC. According to the Brazilian ratings board, the remastered edition of the game is due for release next year in 2017, but they don't list a release window, much less a release date.
One thing that is interesting is that the game is no longer being published or distributed by Electronic Arts, but instead it lists Gearbox Publishing as the company releasing the game on home consoles and PC.
Gearbox has recently been getting into the publishing gig, with games like Homeworld Remastered and Duke Nukem 3D Remastered also coming across their desk. It's an easy way to make a few bucks with low operating overhead. You can take an old game, slap some higher-poly models/textures/assets into the package, make the effects a little more sparkly and then pump it out for the price of a full retail game to make decent bank.
Bulletstorm originally didn't sell very well when it first released on the Xbox 360, PS3 and PC back in 2011. The game just didn't catch on. Developers People Can Fly and Epic Games made a tongue-in-cheek shooter that was way over-the-top. The game was crude, juvenile and wasn't afraid to fully embrace locker room humor. At the time, there were a lot of shooters flooding the market and Bulletstorm just got lost in the shuffle.
Now that the market has been weeded out of a lot of the mid-budget studios, and the AAA market has dwindled down drastically when it comes to shooter games, Bulletstorm might fare better this time around.
The only issue they might encounter is today's media market, which is far more politically correct than it was back in 2011. Juvenile humor and jocular gags in gaming are criticized heavily and oftentimes given low review scores or derided for targeting a specific demographic. Bulletstorm was all about pushing the limits in crude behavior and violence, and I do wonder if that would be a bigger issue for the remastered version gaining a sales foothold as opposed to finding an opening within the market?
This seems like a game that might best be released during March of 2017 where competition is sparse. The only things they would have to worry about is the Nintendo NX and Mass Effect: Andromeda but both of those products are targeting completely different demographics.
According to Gematsu, when they attempted to reach out to People Can Fly for more details on when the game was coming, the only thing they mentioned is that they didn't have anything to share at the moment for Bulletstorm's remastered version. I'm sure after the holiday season winds down we'll get more details on the game.
Your Daily Blend of Entertainment News
Staff Writer at CinemaBlend.