Get A New Legendary Pokemon For Free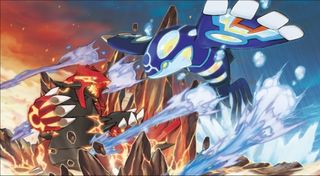 Nintendo is continuing to roll out free Legendary Pokemon for gamers who are playing certain versions of the game. The newest Pokemon that has landed on the freebie list will be available between October 1st and October 24th this year, so you better act quick before it goes away.
On the IGN wiki for Pokemon Omega Ruby or Alpha Sapphire, they reveal that this month's free Legendary Pokemon is Keldeo, a Mythical Pokemon that falls into the water and fighting category. It's a level 100 Pokemon and is one of the 11 free Legendary pocket monsters being given away by Nintendo throughout 2016 as part of the 20th-anniversary celebration of all things Pokemon.
If you want to get your hands on Keldeo, you'll need to open up Pokemon Omega Ruby or Alpha Sapphire and select "Mystery Gift" from the game menu. You'll then need to head into the game and talk to the Delivery Woman at any of the accessible Pokemon Centers throughout the game, there's no need to pick a specific one... any of them will do. From there you can access the Pokemon after talking to the Delivery Woman, you'll also receive a Wonder Card that can be viewed from the Card Album in the Mystery Gift menu. According to IGN, you can only hold up to 24 Wonder Cards per cartridge, so you either need to free up some space by deleting some Wonder Cards or have an additional copy of Pokemon Omega Ruby or Alpha Sapphire.
Kaldeo is one of the newer Mythical Pokemon to join the library of Pokemon in the long-running series. It was added to the roster back in 2012, just four years ago. The Mythical Kaldeo doesn't have any evolutions, but according to Bulbapedia, it does have a second form. The second form appears to have a more unicorn-style design, with a blue horn protruding from its head.
Kaldeo first made its appearance in the Pokemon game series during Pokemon Black and White, the Resolute form -- its second form -- was presented in Pokemon Black 2 and White 2. After debuting during the Generation V series, the Mythical monster made a return in Pokemon X and Y and then later on in Pokemon Omega Ruby and Alpha Sapphire.
As far as fighting capabilities are concerned, it has four moves that mix both its water type and fighting capabilities together, including Aqua Jet, Leer, Double Kick and Bubble Beam.
If you do plan on picking up this Pokemon as a free gift, be sure to put your non-important Pokemon into the Pokemon Bank so that you have at least one free slot available for Kaldeo. This way, when you have it added to your stash you don't have to worry about any kind of errors preventing you from adding the Pokemon to your team.
Nintendo has been consistently supporting the Pokemon franchise all throughout 2016, including working with Bandai Namco to release Pokken Tournament for the Wii U, and then later working with Niantic Labs to get Pokemon Go up and out to the general public. All the while, they've been giving away Legendary Pokemon in their various games after Generation V.
Remember, you only have until the end of October to get your hands on Keldeo.
Your Daily Blend of Entertainment News
Staff Writer at CinemaBlend.