Sony Is Shutting Down A Popular Mobile Game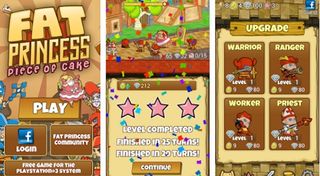 (Image credit: Sony)
One of Sony's unique IPs that came out during the seventh gen managed to make its way onto mobile devices and the PlayStation Vita. Well, this particular popular mobile game is no longer quite as popular as it once was and Sony is pulling the plug on it.
Gamespot is reporting that Fat Princess: Piece of Cake is the IP in question and that it will be shutting down for the iPhone, Android and the PlayStation Vita starting January 1st, 2017.
According to the article, in-app purchases and the cash shop for the Fat Princess mobile spin-off have been disabled. This also includes disabling earning a voucher to purchase the PS3 version of Fat Princess.
Downloading the app will also no longer be available after January 1st. So if you want to at least play the game on your phone or PlayStation Vita, it might be best to get your hands on Fat Princess: Piece of Cake now before it goes away for good.
The Fat Princess franchise came onto the scene back in 2009 for the PlayStation 3. The game broke a lot of trends because players essentially take on the role of captors of a princess, attempting to keep her fat to avoid the enemy from returning the princess to her castle. The game's humor spin on the damsel in distress trope was that by feeding the captive princess lots of sweets and cake, she would be too heavy for the heroes to rescue. Likewise, in some game modes players would have to attempt to rescue the princess, but would have to overcome the enemy feeding her so much cake that she would become too heavy to move.
The premise was so ridiculous that it managed to find success as a digital-only title for the PS3, and then eventually spawned a PSP spin-off.
The mobile version of Fat Princess: Piece of Cake came out last year in January, giving gamers an alternate take on the franchise. The title is a match-3 strategy game, mixing turn-based combat with match-3 puzzle mechanics, similar to other games like Candy Crush Saga.
The game featured 55 different levels across five different lands, along with 10 bonus levels and the ability to upgrade and improve your forces. Like many other mobile games out there, cash shop items and leaderboard support also made the cut.
Originally Gamespot reported what was listed on the Google Play and iTunes App Store, indicating that the title would be discontinued starting December 1st. Sony corrected them mentioning that the discontinuation would actually take place on January 1st.
What has been put into effect, though, is the limitation and discontinuation of certain services for Fat Princess: Piece of Cake, which was enacted on October 1st. You can no longer spend any of the cash shop gold on in-app purchases, and you can no longer utilize vouchers to get a free copy of the PS3 version of the game after completing level 15, and other financial accouterments have been disabled. However, the game can still be played in offline mode and will be available to play so long as you don't delete it from your phone or PS Vita.
Your Daily Blend of Entertainment News
Staff Writer at CinemaBlend.