The Fantastic Beasts And Where To Find Them Mobile Game Has A Title And Release Date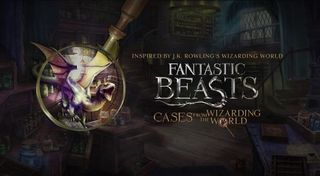 A lot of people are excited about the upcoming movie Fantastic Beasts and Where to Find Them. It's no surprise that the spin-off of Harry Potter is already set to receive a new video game that fans will be able to indulge in during their down time.
The game was announced through a Facebook post by the Pottermore page, which is the official digital offshoot of the J.K. Rowling Wizarding World. The page keeps fans updated on all new content, images, promotional material and other info related to Rowling's books, the upcoming films based on those books, and the games that are based on both.
In this case, the Pottermore page revealed that there's a new game in the works based on Fantastic Beasts and Where to Find Them that will be a hidden-object puzzle game due for release on November 17th for mobile devices. The game itself is titled Fantastic Beasts: Cases From The Wizarding World. The subtitle almost makes me think that the game might include a lot of little tidbits, winks, nods and Easter Eggs from other Rowling material.
The task in these games is to find select objects, sometimes with a time limit on how long you'll have before the game ends. The trick is that while there's a list of objects to find, they're not the easiest to spot out because in hidden object games the objects are designed to blend into the environment. This usually means that players have to work hard to discover and spot out the required objects while also paying close attention to how the objects might be located in the environment.
The reaction to the news was a bit mixed. A lot of Rowling's fans were excited that Fantastic Beasts has a new game in the works and many of them can't wait to play it, but others were very disappointed that it's a hidden-object game instead of something a bit more innovative. A few people asked why this wasn't an MMO like World of Warcraft? They received responses explaining that those kind of MMOs take a long time to make and you need a lot of brand capital to justify the investment. They also mentioned that if the movie series does well (and there's supposed to be five of them) we could see a Fantastic Beasts MMO-spinoff down the line.
Others were a little more practical about their requests -- still airing disappointment with the fact that the game is a hidden-object title -- hoping that instead the game could have been more like Pokemon Go. A lot of people actually liked the concept of a Pokemon Go-style game designed around the themes of Fantastic Beasts. And if I must say so myself, I actually agree with those people. It seems like it could be the perfect marriage between Rowling's property and a game that gets you to get up and go outside. That's not to mention that Niantic could use a little competition in the augmented-reality, real-life RPG field.
There aren't a lot of details about the game so far, but Pottermore mentioned in the post that there will be more info coming soon.
Your Daily Blend of Entertainment News
Staff Writer at CinemaBlend.