Fantastic Beasts Showed Us Its Opening Scenes, Here's What We Saw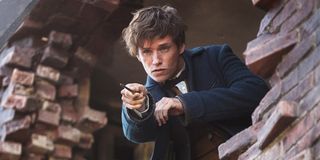 This has been a day filled with all kinds of Fantastic Beasts And Where To Find Them news. Earlier today, the blockbuster held a special global fan event that saw the filmmakers and stars gather to answer fan questions, and while the big news was that there are now going to be a total of five Fantastic Beasts movies, that wasn't the end of the show. After the live-stream cameras shut off, fans in theaters around the world were treated to a screening of the first seven minutes of the upcoming feature.
Starting in silent, dramatic fashion, Fantastic Beasts And Where To Find Them opens with a team of wizards about to face down an unseen enemy... and get defeated rather quickly. While we don't see what it is that destroys them, the fight is over in an instant, as a bright blue light flashes that seemingly kills everyone in the room. That is, except for one man with slicked-back white hair who never turns to face the camera.
A series of newspaper headlines -- featuring the famous Harry Potter moving photographs -- splash across the screen, setting the tone for Fantastic Beasts And Where To Find Them's 1926 setting. It seems that things are not quite peaceful in the era, not only because of the actions of the dark wizard Gellert Grindelwald, but because there are beast attacks happening and a growing anti-wizard sentiment in the United States. Clearly it's not a great time to be magically inclined stateside, but evidently that doesn't stop Newt Scamander (Eddie Redmayne) from hoping on a boat and setting sail for New York.
We meet Newt as he sits on a bench on said boat, which is making its way past the Statue of Liberty and into Ellis Island. At his feet is one single suitcase that pops open a lock by itself -- clearly a result of an action taken by one of the beasts inside it - but Newt closes the latch and calms the creature by noting that they are almost at the end of their journey. Finally the ship docks, and Newt steps foot on American soil.
The first test for the young British wizard is an encounter with a customs agent, who wears a stoic look on his face and doesn't seem quite happy that Newt doesn't really make eye contact with him. The border guard asks if the recently arriving immigrant has anything edible or any kind of livestock in his luggage, and while Newt tells him "No," the beast in his bag chooses the same moment to once again pop one of the locks on the case. Suspicious, the agent asks Newt to open his suitcase, which our hero is happy to do... after hitting a switch that switches the contents to "Muggle Worthy" mode. When the case is opened, it looks as though it contains nothing more than clothes, a watch, and some other assorted items, so Newt is given permission to enter the country.
From that scene the footage jumped to another location in New York, where it looks as though something extremely dangerous and destructive went down. A brick building lies in rubble as a man walks investigators through and explains what he saw. While his comments are met with skepticism, the man swears that he saw some kind of "dark wind" or "dark mass" with eyes, and that it crumbled the building before diving underground. It's at this time that Colin Farrell's Percival Graves shows up, wearing a concerned and stern look far different from the one sported by the investigators. Suddenly, the wall of the building next door begins to crack, and a pile of bricks begin to swirl. There is a deep rumble underground, and something then tears its way from decimated building down the block, tearing up the street in the process. As it gets further away, the perspective changes to this mysterious creature's point of view as it takes flight, smashes through a glass bus stop, and goes away. Back at the original site, Percival's expression remains unchanged.
Switching the action back to following Newt and his first experience in New York, the young hero comes across a rally that has gathered in front of a set of steps. In this group are a few familiar faces, including Katherine Waterston's Porpentina Goldstein (noshing on a hotdog), Ezra Miller's Credence (handing out flyers) and Dan Fogler's Jacob Kowalski (who is just rushing through on his way to work). Sadly this is not a group with a positive message for our hero, as its organized by the New Salem Philanthropic Society -- an anti-wizard and witches group. Newt catches the attention of the woman leading the group, Mary Lou (Samantha Morton), and she asks why he is with them today.
While Newt works through his answer, noting that he is more of a "chaser" than a "seeker," other events begin to unfold that could prove quite dangerous. At the top of the aforementioned steps, a man flips a coin (in slow-motion), and it begins to fall down towards the group. We then see a shot of Newt's suitcase, which is being pried open by a pair of small, animal-like hands. As the flipped coin continues to fall, we see a hat of a street musician filled with money pulled behind the base of a statue. It turns out that this theft was done by a Niffler -- a small, black, furry creature with a red and yellow beak -- that has managed to somehow managed to escape Newt's magical luggage. (and is pictured above!)
Altogether the footage felt extremely brief (I was seriously surprised how fast it went), but it definitely served as a nice little teaser for Fantastic Beasts And Where To Find Them and did a good job setting up some interesting mysteries. What was going on in that first scene? Who is the man with white hair? Why were all those familiar faces at that specific N.S.P.S. rally? Will Newt be able to get the Niffler back in the case safely before it causes havoc? Naturally we're excited to get answers to all those questions and more when the movie hits theaters.
Until Fantastic Beasts And Where To Find Them hits theaters on November 18th, be sure to stay tuned her on Cinema Blend, as you can be sure that we'll have a whole ton of coverage coming your way.
Assistant Managing Editor
NJ native who calls LA home and lives in a Dreamatorium. A decade-plus CinemaBlend veteran who is endlessly enthusiastic about the career he's dreamt of since seventh grade.
Your Daily Blend of Entertainment News
Thank you for signing up to CinemaBlend. You will receive a verification email shortly.
There was a problem. Please refresh the page and try again.