The New Dark Souls DLC Was Accidentally Leaked, Get The Details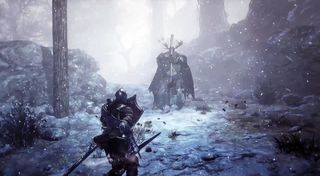 (Image credit: Bandai Namco)
Bandai Namco accidentally let loose the new Dark Souls III: Ashes of Ariandel DLC onto the Xbox store ahead of its initial release date, and a bunch of gamers were ready and willing to jump in on the action early.
Gamespot is reporting that Bandai sent out word to acknowledge a slip-up that took place over the course of the weekend, where gamers noticed that the new DLC for Dark Souls III was available for grabs from the Xbox Store, releasing a bit earlier than it was supposed to. In a statement to Gamespot, Bandai stated,
Well, it was about three days early.
According to Redditors, they were expecting to get their hands on the DLC starting October 25th, this upcoming Tuesday. That's typically when most DLCs, expansion packs, and full AAA games launch in North America. Bandai's slip-up made the DLC available earlier than expected, giving Dark Souls III fans an opportunity to dive into the new content ahead of the scheduled release date.
For those who had the season pass for Dark Souls III, they were able to search out the content -- and in doing so ahead of the DLC's release -- they found that there was an install button. Season pass owners are automatically keyed in to receive Ashes of Ariandel for free, so when the install button was made visible to them they instantly jumped on the opportunity to start downloading and playing the new DLC ahead of time.
Even Gamespot ran a quick test of the bogus scenario to see what was going on and they realized that yes, the DLC was available ahead of time. Clicking on the install button from the Xbox Store would enable the content to start downloading to the hard drive.
The 1.4GB update isn't much, but that's likely enough to give gamers some new foes to fight, some new locations to scour and some new weapons to acquire.
If you don't have the season pass, the Dark Souls III DLC will run you $14.99 while those of you who purchased the season pass will get it as part of the $25 season pass.
On the upside, Bandai's announcement seems to have spurred them to move up the release date by a whole day, so that's good news for everybody.
The new Dark Souls III: Ashes of Ariandel content will open up an all new location known as the Painted World of Ariandel, and grant gamers access to more than a dozen new weapons to collect. They've introduced just over a handful of new armor sets, several new spells and some new bosses to do battle against.
Your Daily Blend of Entertainment News
Staff Writer at CinemaBlend.