Dark Souls 3 Isn't The Last Game In Series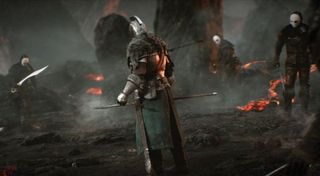 Dark Souls III came onto the scene in quick way, first being announced during Microsoft's E3 press conference with a cinematic trailer. The game won't be the last in the series, but it might be the last of the Dark Souls games that takes place in a dark European-fantasy setting.
Videogamer.com managed to land an interview with Hidetaka Miyazaki. With the help of a translator, Bandai Namco producer Atsuo Yoshimura, it was explained by Yoshimura that...
This is a good thing.
I was wondering how much of Dark Souls From Software and Bandai Namco Games would be able to churn out before the concept and the clones became somewhat tiresome. Although, as the debut trailer for Dark Souls III showcases, there still appears to be some life left in the concept.
The game's rich visual lore and distinct Gothic design has helped it capture a niche audience of dedicated gamers. However, as showcased with Bloodborne and its brooding Germanic architecture and dark atmosphere, From Software has a bit more to explore in the hack-and-slash genre than the medieval English themes.
Of course, From Software is riding on the wave of popularity from the Dark Souls series but they have been known to churn out some quality titles in other genres as well. Yoshimura commented about From Software's rich history with games like Armored Core, telling Videogamer.com...
A Dark Souls game set in a futuristic world would actually be kind of cool. I'm not sure what they could do with it but implementing high-tech weapons, guns and projectile-focused weaponry could definitely take the series in a different direction. That's not to mention that with Dead Space on hiatus there aren't any dark, futuristic-themed action-RPGs on the horizon. Mass Effect fits into a slightly different category and isn't really about hack-and-slash micromanagement and button-reflexes.
Beyond Dark Souls III I would definitely like to see how they approach the genre with something different or if they'll focus on something else entirely. They haven't really had any super major hits outside of Dark Souls and Bloodborne recently, so it definitely makes you question what sort of focus they'll apply to the sub-genres and subject matter moving forward.
Your Daily Blend of Entertainment News
Staff Writer at CinemaBlend.