An Extremely Rare Pokemon Is Now Available For Free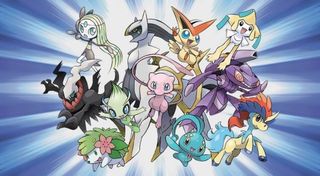 The 20th anniversary of the Pokemon game series continues on and Nintendo has continued to stay committed to rolling out free goodies for people who play the newer games in the series on the Nintendo 3DS. And for this month, they have a brand new extremely rare Pokemon available... for free.
Over on IGN's Pokemon Wiki they rolled out a brief update to inform gamers that they can get their hands on a free Genesect Mythical Pokemon. This is one of the final Pokemon that they will be rolling out for free, and it's currently going to be available between November 1st and November 24th of this month as part of the 20th anniversary of Pokemon. Nintendo had started the celebration with Mew earlier this year in February, and have continued on each month since then. There will be eleven months of free Pokemon leading up to the new year.
Genesect is currently available for those who own Pokemon Omega Ruby, Alpha Sapphire, Pokemon Xor Pokemon Y. You can get your hands on the mystery code by visiting participating GameStops in North America or GAME stores in the U.K. After you get your hands on the code you will then need to boot up the game and connect to the internet. From there you will need to select the Mystery Gift option from the main menu from one of the aforementioned Pokemon games, and then click on "Receive Gift" option, which will prompt you to activate a gift using a code. Enter the code you received from the GameStop or GAME store. You will have between November 1st and November 24th to retrieve the code so be sure you act fast.
After you input the code you'll need to head to the nearest in-game Pokemon Center and then speak with the delivery person to receive your free Genesect. Be sure you have space free on your team to receive the Mythical Pokemon, so visit the Pokebank and deposit some of the spare Pokemon you aren't using so you have room for Genesect.
The Pokemon is a bug and steel type, and has four different moves in his arsenal, including Techno Blast, Magnet Bomb, Solar Beam and Signal Beam. Originally Genesect made an appearance in the Gen V series of Pokemon, which included appearances in the manga, anime and games. For the game series Gen V started with Pokemon Black and White and Pokemon Black 2 and White 2.
For its iteration in Gen VI for Pokemon X and Y and Pokemon Alpha Sapphire and Omega Ruby, Genesect starts at level 100 and has immunity to poison types, and is essentially resistant to normal moves, bug types, steel types, grass types, psychic types, ice types, dragon types and fairy types, according to the Bulbapedia.
Unlike other Pokemon, the Genesect is like an insectoid cyborg, so it doesn't have traditional evolutionary periods, but instead can acquire different drive mounts that give it an affinity with different elemental abilities, such as shock, burn or chill abilities. It's an interesting Pokemon, no doubt.
Before you pick up Pokemon Sun and Moon you might want to get your hands on the free Genesect for one of the other four Gen VI games. Remember, though, you only have a limited time before this Legendary Mythical Pokemon goes away.
Your Daily Blend of Entertainment News
Staff Writer at CinemaBlend.