Sleeping Dogs 2 Is The Most Ambitious Game You'll Never Play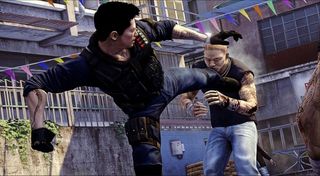 (Image credit: Square Enix)
Sleeping Dogs was one of the best open-world games during seventh gen and was supposed to get a sequel but never did. Based on a new report, it's explained why Sleeping Dogs 2 is probably the most ambitious game you'll never play.
Vice did a very detailed write-up on what Sleeping Dogs 2 could have been, based on a few documents released by former members of United Front Games.
The game never officially entered into production at the now-defunct United Front Games; Square wouldn't give it the greenlight due to focusing on Tomb Raider, Hitman and Final Fantasy XV. However, in the documents they detailed some of the new features they had planned for the title, such as co-op modes and a branching story just like the original True Crime: Streets of LA, which is what the first Sleeping Dogs was supposed to be a sequel to, appropriately named True Crime: Hong Kong. Sadly Activision scrapped it due to costs and Square ended up picking up the remains and renamed it to Sleeping Dogs.
The game was going take place in China's Pearl River Megacity, and would sport a number of cool upgrades over the original game, such as the ability to arrest any NPC walking around, similar to being able to throw any NPC into the back of a car's trunk in the first game. The story was going to pick up after the events of the last Sleeping Dogs, but Wei Shen would be accompanied by a corrupt partner named Harry Feng. Players would be able to choose different routes for both characters, opening up different story elements to unfold.
This dual story mode with branching outcomes would have extended to the co-op and multiplayer competitive modes, an extension on what modders had been working on with the original Sleeping Dogs. The multiplayer was supposed to be seamless like Watch Dogs, pairing up players based on their in-game locations. The modes would have been similar to the ones from the first game, doing co-op fight clubs against waves of enemies, vehicle races, and partake in procedurally constructed missions based on a cloud-based mission generation algorithm that would theoretically pull data from everyone's saved game on the cloud called "Massively Single-Player".
The cloud feature would have been like chaos theory for Sleeping Dogs: A purse gets snatched in someone's game, causing gang warfare to escalate in another. As mentioned, the cloud aspect was all theoretical and likely wouldn't have made the cut due to the limitations of the console hardware.
This "massively single-player" concept was to bring a living, breathing world to life that could be impacted based on player's decisions and interactivity. The more the player interacted with the world, the more procedural mission opportunities would generate, such as crime rings to take down, or NPC murder investigations to sift through. The Vice article draws comparisons of the "massively single-player" feature to Skyim's procedural missions or the fluctuating world changes that took place in GTA 2 depending on which gang you sided with.
In the case of Sleeping Dogs 2, the structure of how NPCs behaved and reacted would depend on how players either fostered or curtailed corruption within a recreation of China's Pearl River Megacity.
It sounds pretty cool on paper, but in practice there's no way that the "massively single-player" would have worked as intended across the cloud. We see how a stripped down version of it operates in Hello Games' No Man's Sky, but even then it was an undertaking too big for the studio to execute the feature in-game the way it was advertised.
Square Enix still has the rights to Sleeping Dogs so it's not impossible to see a sequel at some point in the future, it just wouldn't be from United Front Games.
Your Daily Blend of Entertainment News
Staff Writer at CinemaBlend.