Is Marvel Vs Capcom 4 Finally Coming?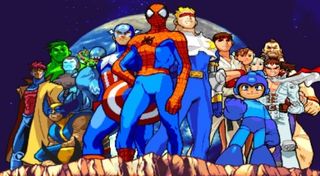 (Image credit: Capcom)
One of the long running crossover versus games that fans have never become tired of is the venerable Marvel vs Capcom series for home consoles. The crossover ended (so far) at Ultimate Marvel vs Capcom 3; but is a fourth game in the series finally coming?
According to ComicBook.com, there have been some mysterious images circulating featuring the classic comic book renditions of the Marvel characters on one side of the screen and the classic Capcom characters on the other side. The image is separated and blurred through a geometrical design of the number '4'.
The collage sees a number of characters mixed together, with Dr. Strange, Iron Fist, Nemesis from Resident Evil 3, Jubilee, Cyclops and Wolverine from the X-Men, and Ryu, Zangief and Ken in the corner from Street Fighter.
Another image shows War Machine and Gambit, along with Spider-Man and Captain America. There's an image featuring a Capcom, Marvel and PlayStation 4 logo along with the "2017" numbers on it. A giant '4' is situated in the center of the image.
The image also notes that it's been 20 years of Marvel vs Capcom, even though ComicBook astutely points out that technically the crossover began with X-Men vs Street Fighter (and if you really want to be pedantic about it, Capcom technically started the fighting implementation of Marvel games during their strong arcade run with X-Men: Children of Atom, which followed on the heels of a little known gem called The Punisher & Nick Fury back in 1993, which is still one of my favorite beat-'em-up games of all time).
This might obviously seem like the revelation of a new Marvel vs Capcom, but ComicBook makes the keen observation that this could very well be an artist using old comic-colored images of the characters from Capcom and Marvel to lead the internet on. It's been done many times in the past with a number of games and products.This includes the Nintendo Switch, in which a talented artist designed a 3D model of what was then known as the Nintendo NX, and then used a 3D printer to bring that 3D model into real life and trick people into thinking that a prototype of the devices out and circulating.
Of course, the other possibility is that a new Marvel vs Capcom is coming and that the game may be revealed during the PlayStation Experience. It would seem like a more opportune time to put the game out there to the general public would be during the 2016 Game Awards.
There's a lot of hype and anticipation surrounding the possibility of a new Marvel vs Capcom game. It's one of the few crossovers where the match-ups actually seem to make some sense, and there's tons of room for cool showdowns, like Magneto versus M. Bison, or Deadpool versus Dante, or the possibility of seeing Zero versus Iron Man. There are still a ton of other fights that need to happen, like Asura versus the Hulk, or Psylocke versus Wesker.
Anyway, it's a cool bit of news to get the fanboys on either side of the hero spectrum to show some excitement. If it happens then EVO 2017 will get a heck of a lot more exciting, and if it doesn't then it's back to the forum boards and comment sections to make wishful crossover battles in the Marvel vs Capcom universe.
Your Daily Blend of Entertainment News
Staff Writer at CinemaBlend.