New Halo Wars 2 Trailer Show Off The Game's Big Bad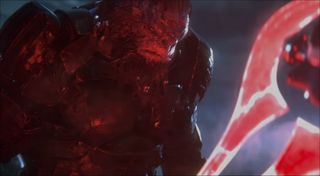 Microsoft and 343 Industries let loose a new cinematic trailer for Halo Wars 2 at this year's Game Awards, hosted by Geoff Keighley. The new trailer centers around the motivations and fearsomeness exhibited by the game's lead villain, Atriox.
The new Halo Wars 2 trailer made its way onto the official Xbox YouTube channel after airing during The Game Awards. The trailer covers a brief history of Atriox and how he came to rule the Banished outside of the territories controlled by the Covenant.
It turns out that Atriox was an enslaved Brute who committed atrocious war crimes while under the Covenant banner. He was to be summarily executed by high command, but instead, he killed those who thought they were over him. His cunning wit and strategic prowess were unmatched by many within the Covenant, and he garnered a strong following of loyal warriors willing to fight and die for his cause. Thus, Atriox established an indomitable foothold with the Banished, and became an army without a nation.
However, it's pointed out in the Halo Wars 2 cinematic that Atriox has taken control of one of the most powerful weapons in the Halo universe. With a brutal, unflinching and unwavering army of mercenaries, killers and banished war mongrels at his disposal, Atriox seeks to extend his platform from ruling on the outskirts of the galaxy to controlling the galaxy.
The Spirit of Fire makes a return to action after the events of the first Halo Wars. They've been in cryo for a long time and Captain James Cutter is now thrust into a seemingly impossible position of having to either face off against Atriox -- who has demolished all who have stood in his way -- or fleeing and risking Atriox growing even more powerful.
The premise for Halo Wars 2 is excellent, and I would say it even has a better plot setup than Halo 5: Guardians. I love that the stakes being presented to Cutter and his crew are easy to understand, and the choice they're faced with is a difficult one to make. I sort of wish they had found some way to raise the level of intensity in a similar way throughout Halo 5, which seemed to just stroll along in how it presented the characters and whatever dangers they faced.
The trailer does a fantastic job of setting up the premise and the objective that players will have to undertake in Halo Wars 2 without giving too much away or making light of the Spirit of Fire's situation. The only thing that the developers have to do now is actually deliver on the gameplay aspect for Xbox One and Windows PC gamers.
When it comes to real-time strategy games it's hard to win over console gamers, but if the story is as compelling as the cinematic trailer above, they might be able to win over plenty of fans. You can look for Halo Wars 2 to launch on February 21st in 2017.
Staff Writer at CinemaBlend.
Your Daily Blend of Entertainment News
Thank you for signing up to CinemaBlend. You will receive a verification email shortly.
There was a problem. Please refresh the page and try again.