Unlocking Characters In Battleborn Is About To Get A Lot Easier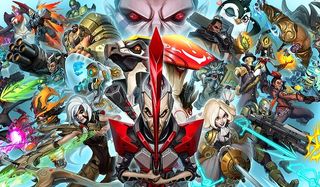 Battleborn is gearing up for its winter update and, along with a bunch of other tweaks to the game, folks will be able to enjoy the game's large cast of characters more easily than ever before.
What's the easiest way to unlock characters? Well, if you're playing Battleborn, the answer will soon be "all at once." That's probably the biggest change headed to the shooter in its next update, due out sometime this month.
According to a recent announcement from the Battleborn team, the next update will unlock the game's entire roster of 25 characters. Whether you're a veteran player or just starting out, you'll have access to every single hero in the game the moment the update goes live. All you have to do is beat the games prologue and, boom, the rest of the core characters will now be yours for the taking.
Again, that's only the first of several changes being made to the game once the winter update goes live. While we aren't clear yet on when said update will be available, the team at Gearbox was at least kind enough to share some extra details about what players can expect out of the new Battleborn experience.
They've got the tweaks listed in groups of "new player" and "returning player," with the full roster unlock obviously benefiting the newbies more so than folks who have been playing Battleborn for a while.
Other newcomer perks include retooled character challenges that, rather than unlocking the characters, will now unlock new skins. Some challenges have also been altered so they're no longer so difficult, and the story mode's missions have had additional guides and tools put into place to make them more understandable to new players.
Also benefitting newbies are a pair of new training modes, including an Incursion tutorial to help prepare you for PvP, as well as the Dojo, where you can just run around and have fun without limits or objectives.
Folks who have been playing Battleborn for a while now will also enjoy some big changes coming to the winter update. For starters, the game's interface has been revamped to make it cleaner, and a Draft Mode has been added to the game to make it more like a MOBA, where no two players can have the same character on the field.
If you want more reasons to keep coming back for more, Daily Quests will also be added to Battleborn in the next update, as well as updates to the game's ranking systems and in-game economy.
Finally, for you folks who happen to own a PlayStation 4 Pro, support for Sony's new home console will be added in this latest update.
Staff Writer for CinemaBlend.