The Latest Xbox One System Update Makes A Major Improvement To Game Downloads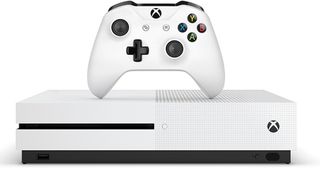 (Image credit: Microsoft)
The latest version of the Xbox One operating system has gone live for the console. They dropped just this past week and it makes some major improvements to game downloads.
Over on the Xbox support page Microsoft detailed everything available in the newest update, including the improvement of game downloads for those with high-speed internet connections. One of the first things they detail is the performance and download upgrades, which now sees those with 100Mbps connections experiencing downloads at a rate that's 80% faster than before. That's a significant increase and should help you get your games fast... real fast.
For those with connections under 100Mbps (which is around 12MB per second in download speeds), you'll still see some performance gains when it comes to downloading software over Xbox Live. According to the update, there's going to be a 40% increase for those with high-speed connections lower than 100Mbps. Not bad at all.
I've personally never had consistent problems with the download speeds of Xbox One games, but, then again, I would usually start downloads late at night or early in the morning so that by the time I was ready to play they would be ready. There were only a few occasions where the game would get stuck or hang up, but they had to do with connectivity issues rather than the actual throughput of the download speeds.
But, speaking of connectivity issues and the downloads hanging up when they aren't supposed to, Microsoft actually has a fix for that. They optimized background downloads to be "more resilient" during "intermittent connectivity issues". That's actually pretty cool, because that was literally the exact problems that I seemed to run into infrequently.
They mention that background downloads may have run into problems due to the way the system prioritized apps and running services. Games running in the background were on lower priority than games that players have open and active, and therefore the background downloads were susceptible to being unceremoniously stopped or interrupted. With the latest system update for the Xbox One, the aforementioned issue should be addressed.
There were a few other notable entries in the system update as well, such as improving the performance of the wireless controller, and improving the consistency of performance for background music when running from music applications.
The interesting thing about it is that these are the sort of updates one would expect from a desktop gaming PC. It's interesting that people oftentimes say that they prefer home consoles over PC due to ease of use, but the similarities these days are almost uncanny. This is especially considering that a lot of the updates the Xbox One just received have already made their way onto services like Steam years ago. In fact, you can prioritize downloads in the background on Steam and even schedule them to start or stop at a specific time, along with designating which games get updated and when. Very intuitive stuff.
The Xbox One is still a ways off from matching the quality of service offered by Steam, but Microsoft is slowly getting there with a lot of the new features they're implementing in each monthly update. The latest system build should automatically download, but if it doesn't you can have the system update through the settings menu.
Staff Writer at CinemaBlend.
Your Daily Blend of Entertainment News
Thank you for signing up to CinemaBlend. You will receive a verification email shortly.
There was a problem. Please refresh the page and try again.