How Many People Actually Use Xbox One Backward Compatibility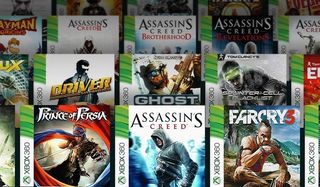 Have you ever wondered just how many people are taking advantage of backwards compatibility on the Xbox One? Well, you can stop wondering, because now we have a rough estimate of exactly that.
Phil Spencer took to Twitter this week to drop some details concerning on of the Xbox One's standout features, backwards compatibility. According to the Xbox higher-up, quite a few people are using their current gen consoles to play some last gen games.
We already knew that the list of backwards compatible games had broken the 300 mark. That figure was helped along this week by a slew of new titles, including all three of the BioShock games, as well as titles like Bully, Catherine, Lost Odyssey and Blue Dragon. After confirming that there are a whole bunch of old games available for play on the Xbox One, Spencer states that nearly 50 percent of folks gaming on that console have taken advantage of the functionality.
Sure, "nearly 50" is a bit more vague than it needs to be, but it's still pretty impressive. We also wonder what exactly counts as "playing BC games." If a player fired up Borderlands once, and then decided to get back to current gen gaming exclusively, does that count? Or are they perhaps basing this on the percentage of players who have purchased at least one backwards compatible game? Either way, it's still impressive, we just wish there were a couple more details tied to the announcement.
If nothing else, this makes a strong argument for something gamers have been saying for a very long time: backwards compatibility matters. We know it costs more, or throws in a bunch of extra wrinkles for developing a console, but folks want to feel like they don't have to abandon their old games just to join the new generation of consoles. Many folks rely on trading in an old console to be able to afford the latest hottness, so for some it's not an option to just keep both plugged into the TV at once.
And if you want to get all artsy about it, we think its also important for the preservation of gaming's history. There are games out there that, without any sort of workable solution, are no longer playable; period. We hate to think that history can be lost like that. Barring the occasional exception, it's not something other mediums really have to worry about. When Blu-ray took off, people didn't lose the ability to watch their DVD's. More importantly, pretty much every-dang-movie out there has been ported to the latest format, or just straight-up digital, making it possible to enjoy the history of film without having to dig up an antiquated machine that may or may not work.
Microsoft is not only proving that, thanks to digital, preserving the past and making it available to the present is possible in gaming. Spencer's latest tweet only goes to show that its something that plenty of us want as an option.
Staff Writer for CinemaBlend.
Your Daily Blend of Entertainment News
Thank you for signing up to CinemaBlend. You will receive a verification email shortly.
There was a problem. Please refresh the page and try again.