Three Surprising Games Were Just Added To Xbox One Backward Compatibility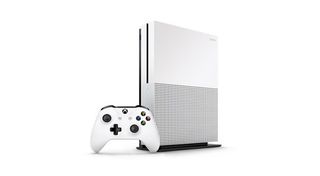 A trio of new games have been added to the list of backwards compatible titles for the Xbox One but, while seemingly obvious picks at first, we're a bit surprised to see them join the roster.
Over on the Major Nelson Twitter page, the voice of Xbox has announced that a popular trilogy of last-gen games are now playable on your Xbox One.
So that's the original BioShock, BioShock 2 and BioShock Infinite, all ready to roll on the Xbox One. All told, that pushes the list of backwards compatible games on Microsoft's latest console up to more than 300 titles. Pretty impressive for folks who like to play their old games without having to break out an old console.
But as we stated above, these are kind of odd choices. All three of the BioShock games are considered classics from the previous generation, making them prime candidates to be added to the list of games folks can now play on the Xbox One. But what's odd about their appearance is the fact that they are already playable on the platform in the form of a remastered collection. It's not common that a game that's already available as a remaster is then brought out as a backwards compatible game. That goes the other way, too. If a big game still hasn't been made available for backwards compatibility, there's a pretty good chance some team is working on a remaster or collection.
For folks who hung onto their original copies of the BioShock games and never took the remastered plunge, we suppose they'll be happy to hear that they could pop in the old discs and play all three titles as of now on the Xbox One. For those who never played the games originally, though, the remastered collection is probably the way to go, as it boasts fresh graphics, all of the DLC and some other bells and whistles. In other words, we doubt that either market will cannibalize the other, but it still seems like a pretty odd choice. We wouldn't be surprised if there are at least a few upset folks out there who wanted the old games to be backwards compatible and then bought the remaster because they figured it was never going to happen.
So what say you, reader? Is it an odd choice to bring out a remastered version of a game and then, months later, make it available as a backwards compatible title? On the other hand, is there an advantage to having both available, providing a slick new package for newcomers and a "history lesson" of sorts for those who want to play the games as they were originally? Let us know your thoughts in the comments below.
Staff Writer for CinemaBlend.
Your Daily Blend of Entertainment News
Thank you for signing up to CinemaBlend. You will receive a verification email shortly.
There was a problem. Please refresh the page and try again.