Steam's Winter Sale Has Begun, Here Are The Best Deals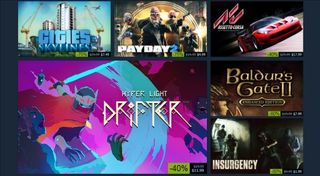 (Image credit: Valve)
Valve has officially started the Steam Winter Sale, offering up a bevy of games from their massive catalog to give gamers something nice to pick up at a discounted rate just before Christmas. Whether you're buying for yourself or buying for someone else, here are a few of the best deals they have on display.
From the main Steam page they announced that the Winter Sale will run from December 22nd to January 2nd, 2017. They have the Just Cause franchise on sale. This includes the original Just Cause, which you can grab for only $1.74 at 75% off, along with Just Cause 2, which is available for $3.75 at 75% off, and Just Cause 3, which is $14.99 at 75% off. There's also a special edition called Just Cause 3 XL Edition, and it's also 75% off at $21.24, which includes the season pass.
One significant thing about the discount on Just Cause 3 is that it has arrived along with the launch of the JC3 MP beta. That's right, a separate team has taken on the monumental task of adding a multiplayer component to Just Cause 3. The beta recently went live this week, and so now would be the perfect time to pick up a digital copy of Avalanche Studios' open-world, mayhem simulator and then grab the MP beta and join your friends in creating even more chaos.
There's also the DOOM franchise... with all of the classic games and the newest title being discounted. You can get the complete classic edition of DOOM, which features the first two games and the master levels, along with Final DOOM all for 67% off for only $4.94. If you're not into rekindling nostalgia, you can grab the newest game from id Software, simply titled DOOM, for 67% off the normal purchasing price, so you can get your hands on it for $19.79.
Other big titles that came out recently, such as The Division, received discounts as well. In fact, you can get the game for 50% off the normal purchasing price for only $24.99. The 2015 pro racing sim, Project CARS, which was crowd-funded by the racing games community, is also discounted by 67% off, enabling you to grab the game for only $9.89 during the Steam Winter sale.
The front page of the digital storefront is also filled with a variety of other game genres and categories that you might have skipped over otherwise. For instance, they have a category of discounted virtual reality games, featuring popular titles like Raw Data and Redout, or The Vanishing of Ethan Carter or Subnautica.
Old-school franchises are also heavily discounted between 50% off and 75% off, like Duck Tales, Tie Fighter, Thief and Resident Evil. And speaking of Resident Evil... Capcom's venerable survival-horror franchise is being offered up via a collector's pack, featuring more than 30 games and DLC packs from the Resident Evil series for 76% off for only $49.00.
Many other big AAA titles are also on sale, including Deus Ex: Mankind Divided, which came out earlier this year, and there's also games like Planet Coaster, Sid Meier's Civilization VI and one of the best selling games this gen, Grand Theft Auto V, all discounted by a sizable amount.
The Steam Winter Sale will run from today all the way up until January 2nd.
Staff Writer at CinemaBlend.
Your Daily Blend of Entertainment News
Thank you for signing up to CinemaBlend. You will receive a verification email shortly.
There was a problem. Please refresh the page and try again.