The Super Mario Bros. Movie Is Getting A Blu-Ray Release, For Some Reason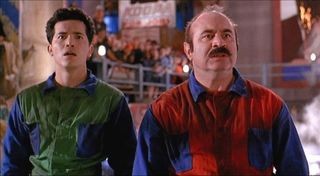 (Image credit: Hollywood Pictures/Nintendo)
One of the most hated video game movies of all time is the first one, the 1993 release of Super Mario Bros. The live-action film is a reviled piece of media within the inner circles (and outer circles) of the gaming community, but it's still receiving a Blu-ray release... so...hooray?
Siliconera is reporting that beginning February 13th, 2017 the 1993 Super Mario Bros. film starring Bob Hoskins, John Leguizamo, Samantha Mathis and Dennis Hopper, will receive a special edition Blu-ray release.
The pack will come in a special limited edition steelbook version if you pre-order from the U.K., retailer Zavvi, and it will come bundled with plenty of extra content beyond the movie itself. There will be a documentary featuring the making of the film with the production crew, along with archived interviews from Bob Hoskins and producer Jake Eberts. Those willing to peek behind the curtain of this legendary train wreck will also get to understand what went into making this film from the directing duo of Rocky Morton and Annabel Jankel.
There's an added bonus of an electronic press kit that features scenes and galleries from the turmoil-ridden production of the Super Mario Bros., film, so movie fans get to see exactly what the media and press were able to see leading up to the film's release.
This is rated as one of the worst video game movies of all time. However, it's a bit of an over exaggeration by some standards. I think the biggest reason this film was, and still is, so hated is because people compare it to Nintendo's Super Mario Bros. video games and the two are nothing alike.
The film has a cyberpunk, dirty sci-fi aesthetic to it that's the complete opposite of what you would expect from Super Mario Bros. Had the film been based on Excalibur: 20XX or F-Zero or any other number of other sci-fi, cyberpunk games made during that time, it probably would have been praised for its efforts, but a grungy, dark, futuristic sci-fi take on the Mario and Luigi adventures left a lot of people angry and dumbfounded.
In reality, though, the film has some heart. If you can look past the Mario motif and sort of pick through what kind of story and adventure Morton and Jankel were trying to tell, there's something worthwhile tucked inside. It was definitely more motivated than the Double Dragon movie, and it was nowhere near as cringe-worthy as the Uwe Boll films (although Far Cry wasn't actually that bad), but it was just an odd little flick that came out as the 1980s era of excess was ending and the 1990s was having a hard time finding its identity.
Over the years I've come to appreciate this movie for its awesome set designs, crazy vehicles, neo-noir cityscape and bizarre story, but in the minds of most gamers this will never truly be considered a proper film based on Nintendo's beloved Super Mario Bros. For gamers willing to dive deeper into this strangely hypnotic film, you can look to get your hands on the Blu-ray release come February. It's a glorious mess that has definitely earned its cult-classic status.
Staff Writer at CinemaBlend.
Your Daily Blend of Entertainment News
Thank you for signing up to CinemaBlend. You will receive a verification email shortly.
There was a problem. Please refresh the page and try again.