Ariana Grande Is Appearing In A Final Fantasy Game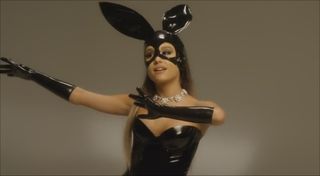 Square Enix has managed to make Final Fantasy a highly talked about topic not just in 2016 but also entering into 2017. Their latest escapade includes acquiring the services of Arian Grande, who is set to appear in a Final Fantasy game already on the market.
As reported by Polygon, Ariana Grande made the announcement on her Instagram account, where she expressed excitement and joy for joining the cast of characters in Square's mobile JRPG for iOS and Android devices called Final Fantasy: Brave Exvius.
The young pop singer apparently met with Square Enix executives to talk about what her character would be like and how she would be portrayed in the game. We do know that the character's name is DW but what her powers are and what she's capable of remains to be seen. Grande did share a quick off-screen video capture of the sprite animations for her cat-themed character, who is wearing the latex outfit that Grande sported in the main image above from her "Dangerous Woman" album and a capella music video.
The character is designed to be small and frisky to match the other cast of characters in the Final Fantasy mobile title. We see that she can run, utilize glowing magic attacks and appears to have a special ability where some spotlights shine down on her.
The outfit is basically identical to what she wore in the Vevo video that's up on YouTube. Surprisingly, it seems to translate rather well into the world of Final Fantasy, which is not something I expected at all. In fact, when I first heard the announcement about Ariana Grande appearing in Final Fantasy snickered at the mere prospect, thinking we would next see Justin Bieber make a guest appearance in Final Fantasy XV (although to be fair, given the boy band nature of the game, he wouldn't really stand out all that much).
However, Grande's DW character looks like she fits in well with the universe that Square Enix has created for Final Fantasy: Brave Exvius.
The game is described by many as being a mix of the old-school, turn-based JRPGs from the SNES fused with the combat-oriented scenarios offered in Final Fantasy Tactics. The title is available to play right now, for free, over on the iTunes App Store and the Google Play digital distribution outlet. It's a game that's kind of flown well under the media's radar since it's release back in 2015, but I wouldn't be surprised to find that there's maybe a surge in players now that the pop singer is set to join the playable cast of characters.
I'm not entirely sure how this combination came to be, but a lot of Ariana's fans are happy about the combination and I'm sure all the chatter surrounding the news is exactly what Square wants.
They've recently come off the major release of Final Fantasy XV, which spent a decade in development, and they're looking to revive interest in Final Fantasy: Brave Exvius with the addition of Ariana Grande. They didn't say when the character will make an appearance in the game, but I presume she's going to be implemented soon.
Staff Writer at CinemaBlend.
Your Daily Blend of Entertainment News
Thank you for signing up to CinemaBlend. You will receive a verification email shortly.
There was a problem. Please refresh the page and try again.