PlayStation Now Adds Dark Souls II And More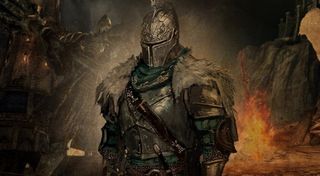 (Image credit: Bandai Namco)
One of the common complaints about PlayStation Now, Sony's digital cloud streaming service, is that the catalog of games hasn't been that great. Well, Sony has extended the catalog to include some fan-favorite titles such as From Software's Dark Souls II.
Over on the PlayStation Blog they revealed a list of games now available on PlayStation Now, including plenty of favorites. The complete list is below:
Tekken Tag Tournament 2
Dark Souls II
Namco Museum Essentials
Dead to Rights: Retribution
Within Namco Museum: Essentials the pack includes a number of other playable games, including Pac-Man, Xevious, Galaga, DigDug, Dragon Spirit and Xevious Resurrection. For gamers who never had an opportunity to play some of those arcade classics, the Namco Museum is a fine way to dive deep back into the catalog of some of Namco's earlier hits before they became a recognized publishing force in the world of today's console gaming arena.
The addition of Dark Souls II is a nice surprise that I didn't see coming. It shows that Sony is definitely growing their library as quickly as possible. The game was a sleeper hit when it came out back in early 2014. From Software and Bandai quickly followed up on that success with the launch of Dark Souls III last year in March, where they took the series to the next level by including even more weapons, new ways to counter and even more outlandish bosses.
One of my personal favorites that PlayStation Now has added to the list is Tekken Tag Tournament 2. The game was basically a culmination of all the previous Tekken game characters being compiled into one huge, tag-teaming experience. There was the added bonus of being able to customize each character by unlocking hair pieces, upper body clothes, lower body clothes and even extra accessories. It gave the game a ton of replay value, especially with the ability to play both local competitive and co-op and online competitive and co-op modes. Tekken Tag Tournament 2 was one of those rare games from the seventh generation that had nearly limitless amounts of replayability.
Another game I didn't expect to see on the list is Dead To Rights: Retribution. It was the sort of spiritual reboot of the first two Dead to Rights games. Unfortunately, the hard-nosed story and over-the-top gameplay from the first two games didn't quite carry over into Dead To Rights: Retribution. Nevertheless, the game rolled out during seventh gen for those who wanted a third-person, bullet-time, action romp.
To help give gamers an idea of what the PlayStation Now offerings are like following the update, they also released a brief trailer showcasing each of the games being added to the platform. You can check that out below.
You can currently subscribe to PlayStation Now for $9.99 for the first month or $99.99 for a year-long subscription. They also offer a seven day free trial for those who want to try out the cloud streaming service before handing over any money to Sony. Some fans were glad to see Dark Souls II join the list, but then they immediately began asking for Demon Souls and Dark Souls I.
Your Daily Blend of Entertainment News
Staff Writer at CinemaBlend.
Your Daily Blend of Entertainment News
Thank you for signing up to CinemaBlend. You will receive a verification email shortly.
There was a problem. Please refresh the page and try again.