Some Deus Ex: Mankind Divided Pre-Order Content Is Now Free For Everybody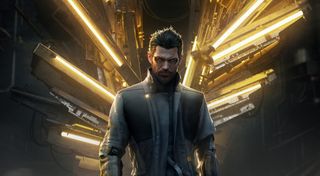 (Image credit: Square Enix)
Gamers are slowly wising up not to pre-order games or support cut-content culture. For those of you who did wait or avoid pre-ordering Deus Ex: Mankind Divided, you can get your hands on the content for free.
Eurogamer is reporting that the Deus Ex: Mankind Divided Day One Edition DLC and Augmented Covert Agent Pack DLC are now free for everyone, whether you're playing on the Xbox One, PlayStation 4 or PC. This includes additional skins for Adam Jensen, new weapon skins, an all new mission called Desperate Measures, and extra consumables.
For gamers who own the game on Steam, the update will take place automatically, adding in the content into the game if you already have Deus Ex: Mankind Divided installed. For PS4 and Xbox One owners you'll have to manually add the content to your game by going to the respective digital distribution stores for either console, which means you'll need to visit the PlayStation Store to get the free DLC for the PS4 or head to the Xbox Store to get the content for the Xbox One version.
A lot of gamers were originally peeved when Square Enix had announced a pre-order program to unlock certain kinds of content for Deus Ex: Mankind Divided based on the number of pre-orders they received. A lot of people saw it as attempting to not only cut the content from the main game but also hide the game's content behind a pre-order pay-wall.
Gamers have been becoming increasingly disgruntled with the current state of the gaming industry, with the pre-order content and DLC being announced, sometimes, before a game is even complete. Some publishers have argued that the DLC isn't finished yet and that's why they're announcing it early. Ultimately it just ends up angering the audience and they'll sometimes forfeit buying the game altogether, similar to what happened with Street Fighter X Tekken, whose sales suffered greatly after the game's disc came with all of the DLC on it that was locked behind a pay-wall. Some tried making the excuse that it was made by a separate team and therefore required separate payment to access.
In the case of Deus Ex: Mankind Divided, the game didn't quite hit it off like 2011's Deus Ex: Human Revolution did. The lack of substantial graphics upgrades, combined with the pre-order DLC fiasco, and claims of the story not fully resolving itself led to it receiving a lower Metacritic score than the first prequel and sales have been a lot lower than Human Revolution. According to Steam Spy, Mankind Divided has only moved 620,000 copies, which is kind of disappointing for a highly anticipated sequel. That's not to mention that, on Steam alone, the re-released director's cut of Deus Ex: Human Revolution moved more than 1.5 million copies.
Due to the slow uptick in sales during the launch of the game, Square may have decided to throw gamers a bone and hand out the pre-order DLC for free. Whether or not this will affect any future DLC plans for Deus Ex: Mankind Divided remains to be seen.
Your Daily Blend of Entertainment News
Staff Writer at CinemaBlend.
Your Daily Blend of Entertainment News
Thank you for signing up to CinemaBlend. You will receive a verification email shortly.
There was a problem. Please refresh the page and try again.