A Twitch Streamer Died During A Charity Livestream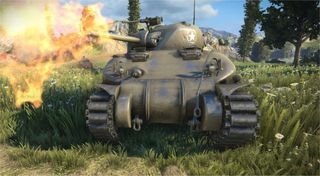 (Image credit: Wargaming)
Streaming has been a huge boon in gaming over the last several years. It's spawned lots of charity events and turned plenty of gamers into overnight celebrities. Well, in one tragic case someone was live-streaming for charity and they passed away during the stream.
ESports website PVP Live is reporting that Brian 'PoShYbRiD' Vigneault, a known World of Tanks player, was partaking in a 24-hour charity stream on Twitch. During the stream, however, he passed away.
According to the article, speculation suggests that he died due to heart complications that came about from severe sleep deprivation.
Some people might be wondering, how does someone die during a livestream and no one notices? Well, further into the article they explain that Poshybrid decided to get up for a smoke break and left the Twitch stream running. However, he never returned. Eight hours later some of Poshy's Twitch followers were still lurking around his channel, but the streamer never returned to his computer, leaving people wondering what was going on.
A moderator from Poshy's Twitch channel explained in the chat that eight hours after Poshy had gone for the smoke break, someone saw Poshy in his Discord channel and decided to message him. However, Poshy did not respond... instead someone who identified himself as a police detective responded.
According to the moderator, the detective asked to speak with the individual about Poshy, and the detective explained that the Twitch streamer had passed. The identity of the detective was also verified by the user with the Virginia Beach police department.
The article notes that Poshy was popular in the World of Tanks community and had built up quite an audience. In response to the tragic news, Twitch decided to turn Poshy's channel into a memorial where people can visit it and send in their condolences.
The World of Tanks community who regularly viewed Poshy's content did confirm that he was known to drink and smoke quite often. The combination of poor health choices and a 24-hour livestream may have been too much for his heart to handle.
There have been other streamers out there who have attempted 24-hour livestreams as part of a charity event, or during the release of a big name game, or as a way to rapidly grow their audience.
The PVP Live article actually warns streamers about this kind of behavior due to the fact that it might be wise to check with a physician first before attempting such an arduous task. The human body certainly needs adequate amounts of rest, and streaming all day long can take a serious toll on the body.
Additionally, we don't know what the rest of Poshy's eating habits, workout habits, living conditions or sleeping priorities had been leading up to the 24-hour livestream. There could be additional factors at play other than just the fact that he was running an all-day stream.
Nevertheless, streaming culture is highly competitive. A lot of them are vying for paid subscribers and willing to push boundaries in order to do so. Unfortunately, in this case, streaming for 24-hours straight may have cost a streamer his life.
Your Daily Blend of Entertainment News
Staff Writer at CinemaBlend.