World Of Tanks Is Getting Its First Very British Update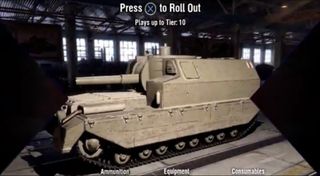 Wargaming announced that they have an invasion of British armor coming to the PS4 version of World of Tanks. It's the first set of British tanks to appear on the PS4 version of the game, arriving a bit late behind the Xbox One and PC versions of World of Tanks. But it's better to be late than not show up at all... right?
According to the press release, Wargaming's update contains 40 British vehicles that PlayStation 4 users can utilize on the battlefield. This includes tank destroyers, artillery, and various other legendary World War II armor such as the Crusader, Cromwell, and the Conqueror. Some new maps have also joined the fray as well, including 11 new maps, such as the "Siegfried Line", "Fisherman's Bay", "Ensk War!" and the "Westfield Rain" map and its non-raining variant.
Over on the World of Tanks website they link to the new tech tree and there's a really quick 30 second clip that scrolls through the tech tree with a glimpse at some of the new armor.
The British fleet contain a number of different vehicles for different purposes, ranging from cruiser tanks to break through enemy lines to flank the enemy with hit-and-run sting attacks. There are also more heavy duty vehicles, such as the FV 251b 183, also known as the "Death Star", that can blast through forces and deal heavy damage to medium and smaller tanks.
PS4 gamers were a little curious about the update because this has been available for PC and Xbox One users for a while. However, the PS4 only recently received Wargaming's World of Tanks, so it's a bit behind on some of the updates.
Some users rolled through a list of different regions and factions that are still not present on the Xbox One and PS4 versions of the free-to-play tank game, and Wargaming will slowly roll out the updates as they're made available.
Part of the reason for the slow roll out of new content is due to having to pay for patching fees on home consoles. This is part of the main reason why a lot of free-to-play games don't offer cross-platform compatibility between PC and console versions, or why the console versions are delayed by a great deal when it comes to receiving the latest patches. In fact, the patching fees is only part of the roadblock that developers face when updating their game. They also have to deal with certification for each patch, which can take anywhere between days up to weeks for each console, so they take a lot of time to ensure that things are done right so they don't have to pay to issue hotfixes or roll out supplementary patches the way they can on PC.
Anyway, if you're a fan of the free-to-play tank game and you want to play World of Tanks on PS4, it's out and available with the British update so there are more tanks to play and more maps to play on.
Your Daily Blend of Entertainment News
Staff Writer at CinemaBlend.