Not All Nintendo Switch Titles Are Playable On A TV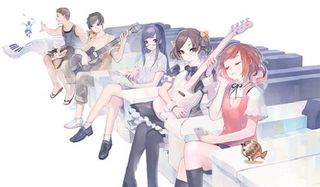 We're still finding out interesting, unexpected things about the Nintendo Switch despite the fact that the console is set to launch in just a few days. For instance, did you know that some games won't be playable in TV mode?
The Switch is about as Nintendo as a console can get. It doesn't really adhere to industry norms in most areas, including how it will be handling gameplay for upcoming titles. For instance, Gamespot is reporting that upcoming rhythm game Voez will not be playable on your television, meaning the only way to enjoy the game will be with the Switch screen in hand.
To be fair, this makes perfect sense for this particular game, and we imagine that will be the case with any titles that are restricted in this fashion. In other words, don't expect Mario Kart 8 or Xenoblade Chronicles 2 to be limited to portable play. But if a game is played solely with touch screen controls, as is the case with Voez, then it makes sense that you won't be able to play it with a standard controller in hand.
For those of you who recognize the name Voez, that's likely because it's already available on mobile platforms. The game is built around touch controls, so it wouldn't really make sense for the developer to try and come up with more traditional control options when the Nintendo Switch works perfectly fine as a touch-based machine, so long as you're playing it undocked.
Unfortunately, Voez isn't actually set to launch here in the States just yet. It's set to be a launch title alongside the Switch in Japan on March 3 but, for the time being, that's the only region where it is expected to be playable on Nintendo's new machine.
But that doesn't mean that Voez, or perhaps another touch-based mobile game, won't eventually grace our eShop. Nintendo has gone on record as saying that they want to keep their own mobile games separate from their other platforms. In other words, they aren't currently planning on launching titles like Super Mario Run or Fire Emblem Heroes on the Switch, but that doesn't mean other mobile developers don't have Switch-focused plans of their own.
The first game to jump to mind is Puzzle and Dragons. Nintendo already did a team-up with that particular game series on the 3DS, so there's brand recognition even for folks who have never played the free-to-play mobile version. We could definitely see the standard Puzzle and Dragons game launching for the Switch, alongside other popular mobile games like Clash of Clans or Candy Crush Saga.
As with all things related to the Switch, we'll just have to wait and see. But if Voez is getting in on the action, we have a hard time believing no other developers plan on following suit.
Your Daily Blend of Entertainment News
Staff Writer for CinemaBlend.