Xenoblade Chronicles 2 Looks Epic And Beautiful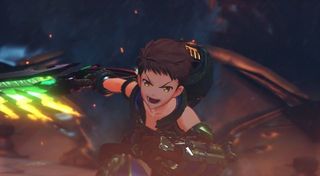 One of the games showcased for the Nintendo Switch during the live-stream presentation on January 12th was the Monolith Soft JRPG exclusive, Xenoblade Chronicles 2. The game looks absolutely epic and has an equally beautiful art-style to match.
The trailer aired during the presentation but an extra step was taken to post the trailer up on Nintendo's YouTube channel, where gamers could rekindle the epicness of the upcoming Xenoblade game.
Now, keep in mind that this is Xenoblade Chronicles 2 not Xenocross, Xenogears or Xenoblade Chronicles X. All of the aforementioned games are from a different, alternate universe of the Xeno franchise. A lot of gamers were a little bit confused and disheartened to find that Monolith Soft had decided to resume where they had left off with Xenoblade Chronicles from the Wii instead of continuing on from what was introduced in Xenoblade Chronicles X.
The story here wasn't really explained, but the previous game saw players exploring a world on the backs of old gods. The Xenoblade series is usually one marked by a theme of perpetual war, and it's hard to tell exactly what the story will revolve around given that the first game seemed to have a fairly conclusive ending. This is partly why some people are curious about why they chose to succeed Xenoblade Chronicles with a sequel when Xenoblade Chronicles X was the game that had more to tell and more to explore as far as story and characters were concerned. One of the issues with Xenoblade Chronicles X, however, was that since the main character was a player creation, and the story slightly suffered from that.
Gamers will, unfortunately, have to wait for Monolith Soft to eventually return to Xenoblade Chronicles X, but that all depends on whether or not Xenoblade Chronicles 2 does well in Japan and abroad. According to some retailer listings, the game may release in 2017, but the trailer doesn't nail down any specific release date.
A lot of fans are excited for the game, especially given that they've really become attached to the kind of gameplay style and mechanics offered in Monolith Soft titles.
The art-style is similar to, but not quite the same as, Xenoblade Chronicles X. They've taken a slightly different turn with the character designs, which is being headed up by Masatsugu Saito, as reported by Siliconera. As you can see in the trailer, they have a cell-painted look similar to what you might find from a high-quality anime.
The lighting and environments are gorgeous. The soft, idyllic palette utilized for the environmental shaders gives the game this large, expansive look that seems inviting and just begging for adventure. We also see some of the Nintendo Switch's GPU muscles being flexed with things like soft-shadows on the characters, dynamic ambient occlusion and post-processing effects like depth of field and fog dithering.
Xenoblade Chronicles 2 is expected to launch first in Japan on the Nintendo Switch at some point in 2017.
Staff Writer at CinemaBlend.
Your Daily Blend of Entertainment News
Thank you for signing up to CinemaBlend. You will receive a verification email shortly.
There was a problem. Please refresh the page and try again.