Here's What Will Happen To Your Destiny Character In Destiny 2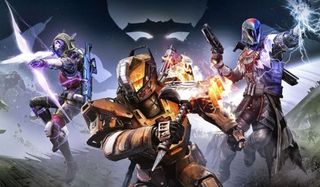 The end of an era approaches for Destiny, with Bungie gearing up to implement the online shooter's final series of changes and events before heading into the full sequel. And, speaking of a sequel, it looks like player characters will be making the leap into the game's follow-up, after all.
Back when Destiny was first announced, Bungie stated that the game was being built for the long haul, complete with characters that would progress across the series' history. In more recent months, however, buzz was kicked around the internet stating that such a continuation for player characters would likely not happen, with players needing to abandon the past in order to head into the future.
That didn't sit well with many players, and Bungie has apparently heard the message loud and clear. In a recent blog post titled "The Road Ahead," the development team explained what, exactly, will make the transition from the original Destiny to whatever they're going to be calling the official sequel; our hope is for Des2ny.
In other words, so long as you got through the game's on-disc story, you'll be able to bring your character into Destiny 2. For those of you who have leveled sub-classes without bothering with the story, now might be a good time to fly through those missions if you haven't already. Then again, we're just talking about cosmetics here. Notice that nothing in the statement says that your progress, abilities, gear, guns or loot will be making the transition, just what your character actually looks like. Again, we imagine that will ruffle a few feathers, but we kind of feel like everything that happened in Destiny was great and all, but we're ready for something new. We love the guns and gear, but we'd rather have a whole bunch of new junk to look forward to in Destiny 2 than yet another iteration on items we've been wearing and using for the past couple of years.
And speaking of Destiny's final run, Bungie is nearly ready to reveal all of the details for in-game changes and events that will lead into the sequel. They've got a bunch of livestreams planned to walk folks through all of the details, starting with the "Age of Triumph" reveal event on March 8. This event will highlight the final in-game event for Destiny so, when it's over, you can basically look at the original game like a big sandbox full of fun things to return to until you dive head-first into Destiny 2.
Subsequent livestreams will feature the Age of Triumph Weekly Rituals on March 15, as well as the Sandbox Update on March 22.
Your Daily Blend of Entertainment News
Staff Writer for CinemaBlend.