The Nintendo Switch's Controller Has A Hidden Message For Gamers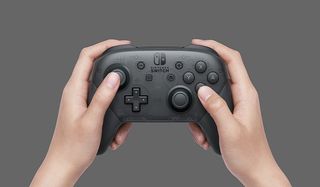 Now that the Nintendo Switch Pro controller is out in the wild, hundreds of thousands of gamers are using the thing to enjoy their new console while lounging on the couch. Nintendo is grateful for all of that support. And if you don't believe us, all you have to do is read about it on the Pro controller itself.
We love Easter eggs when it comes to gaming, but usually they take the form of something hidden within one of the games we're playing, and not the hardware we're playing on. But one eagle-eyed Reddit user discovered just such an Easter egg on the Switch Pro controller, and shared their findings with the rest of the world. This story comes to us via Gameinformer, who stumbled upon the original Reddit post and tested it for themselves.
If you look at the Switch controller, it isn't all that different from the controllers you're used to using on the Xbox One or PlayStation 4. It's got a couple of thumbsticks, four shoulder buttons, a D-pad and some face buttons. Sure, some are complaining that the D-pad isn't the best and that the shoulder buttons aren't analog but -- and then there's that $70 price tag -- but, otherwise, it gets the job done.
There is at least one thing the Pro controller has that the competition is lacking, and that's a secret message from the folks at Nintendo. If you have a Pro controller, it should take you about two seconds to find it, though you wouldn't be faulted for not locating it by accident. They hid it pretty good. If you hold the controller like normal and pull down on the right thumbstick, the message is visible through the plastic at the top of the "crater" where the thumbstick is housed. It reads, quite simply, "THX2ALLGAMEFANS."
Maybe that doesn't quite make up for the extra $10 you're shelling out over comparative controllers, but it's certainly nice to know that Nintendo appreciates everyone's business. It's a small touch, but a nice one. We usually say "Nintendo's gonna Nintendo" when they do something a bit out of touch or otherwise inexplicable, but they are also known for doing fun, quirky things like this from time to time.
And speaking of the fun, quirky side of Nintendo, how is everyone enjoying their Switch right about now? We realize the machines have only been out on the market for a couple of days, but we figure that's plenty of time to boot the thing up, add some Friend Codes to your collection, check out the eShop and play an unreasonable number of hours of Zelda: Breath of the Wild. Let us know in the comments how Nintendo is treating you these days and don't forget to look for that message on your Pro controller next time it's in your hands.
Staff Writer for CinemaBlend.
Your Daily Blend of Entertainment News
Thank you for signing up to CinemaBlend. You will receive a verification email shortly.
There was a problem. Please refresh the page and try again.