How Many People Are Still Playing Pokemon Go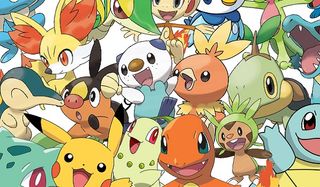 When people aren't playing the latest hotness on the mobile gaming front, it appears they're still returning to the breakout hit of 2016, Pokemon Go. Niantic recently revealed how many folks continue to play Pokemon Go on a regular basis and, according to their findings, a ridiculous number of people are still trying to catch 'em all.
According to Niantic, a whopping 65 million people continue to play Pokemon Go on a monthly basis. The figure was made official in a recent blog post from Niantic simply titled, "Thank you."
It may be easy for some of us to forget that Pokemon Go is still so massive since the heat from its initial launch has cooled down, but clearly the game is having no trouble continuing to draw a crowd. I don't see dozens of people at the local park on a nightly basis, for instance, but I still can't go to a local mall or major event without spotting at least some folks furiously chucking Pokeballs on their phone's screen.
It might feel like we're burying the lead here a little bit, but that information was paired with further news that Pokemon Go also brought home a couple of prestigious awards, including the title of Best Mobile Game and Best Handheld Game from the British Academy of Film (BAFTA). Despite the organization's name, they've been giving out a collection of awards related to video games for quite a while now.
Whether or not Pokemon Go was the "best" mobile game of the year or not is a fine debate but, no matter what side of the argument you fall on, there's no denying its reach, influence and, as much as I despise this term, cultural penetration. The game caught hold like wildfire last summer, making gamers out of people who typically only used their phones to make calls and, before then, couldn't have told you the difference between a Charizard and a Pikachu.
According to Niantic, though, the game's continued success is thanks largely to the folks who have stayed dedicated all these months later. It's not uncommon for a mobile game to burn out quickly, especially if it doesn't have too many gameplay hooks to keep you coming back for more. But while Niantic has continued to do a decent job of keeping the events, updates and fresh content coming, fans have continued to return to the game in droves. Here's what the company had to say about Pokemon Go fans:
From there, the announcement goes on to make a list of all of the big recognitions Pokemon Go has received this past year, including oodles of awards for mobile/portable game of the year.
According to Niantic, they're still "at the beginning of the journey," with more events, activities and updates planned into the foreseeable future.
Your Daily Blend of Entertainment News
Staff Writer for CinemaBlend.
Your Daily Blend of Entertainment News
Thank you for signing up to CinemaBlend. You will receive a verification email shortly.
There was a problem. Please refresh the page and try again.