How You Can Purchase The Pokemon Go Plus Accessory When It's Available Again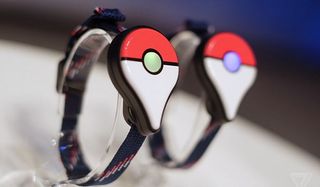 Pokemon GO has only been out a day and already folks are clamoring for the mobile game's companion device. That's right, you can buy an extra piece of tech to wear while you're out and about to enhance your critter-catching escapades.
The item is called the Pokemon GO Plus and, at first glance, it's a wrist strap that has a charm that resembles a Pokeball, the iconic devices used to snag Pokemon in the game series.
Unfortunately, getting your hands on one of these bad boys is going to be tricky for the time being. Both Amazon and GameStop sell the companion bracelet for Pokemon GO but, much like the PlayStation VR headset, the Pokemon GO Plus sold out about as quickly as it became available for pre-order.
If, however, you'd like to watch the listings like a hawk, then you can go ahead and bookmark the pages for the Pokemon GO Plus at both Amazon (opens in new tab) and GameStop (opens in new tab). It'll set you back $34.99 once it becomes available again.
So what, exactly, is this Plus device for Pokemon GO? Well, it syncs to your smartphone via Bluetooth and lights up and vibrates whenever a Pokemon is nearby, alerting the wearer that they should turn on their phone and boot up Pokemon Go with a quickness. You can also use the device to actually catch your virtual pets by pushing a button rather than using your phone's touchscreen. It has other features to "enhance gameplay," too, including collecting Pokeballs, Berries and Pokemon Eggs at PokeStop locations without ever having to use your phone.
The Plus can be worn as a bracelet or clipped onto your clothing or bag. Given the fact that some folks are complaining that Pokemon GO drains their batteries, this seems like a smart alternative to keeping up to date on Pokemon locations without having to let the game run 24/7 in the background.
If, however, you are not super interested in Pokemon Go and therefore have little use for the Plus accessory, then you've only got a bit longer to wait until the next full game finally launches. Pokemon Sun and Moon will arrive this fall, offering a brand new location to explore, new pocket-sized monsters to catch and all of the other expected bells and whistles.
At this point, we're curious if either Pokemon GO or even the Plus accessory will have some fort of integration with the new game, too. It would make sense to leverage the popularity of one to increase usage of the other, so we'll just have to wait and see what The Pokemon Company has planned for this next outing.
Until then, be sure to let us know if you manage to get your hands on a Pokemon GO Plus and how well the device works out in the legitimate tall grass.
Continue For 4 Reasons Why Pokemon GO isn't Your Typical Mobile Game >
Staff Writer for CinemaBlend.
Your Daily Blend of Entertainment News
Thank you for signing up to CinemaBlend. You will receive a verification email shortly.
There was a problem. Please refresh the page and try again.