Nier: Automata's Upcoming DLC Includes Bizarre Boss Fights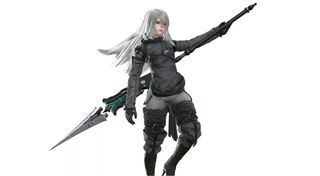 Platinum Games and Square Enix have been enjoying lots of success with the action packed, third-person hack-and-slash RPG Nier: Automata. They decided to take advantage of that success by releasing some new DLC for the PS4 and PC game, but it contains some bizarre boss fights.
According to Polygon, some of the new boss fights in the game include battles against Square Enix's president Yosuke Matsuda, and a boss fight against the president of Platinum Games, Kenichi Sato.
In addition to the boss fights, they've also included some new outfits for the characters A2 and 2B, including a throwback costume to one of the popular characters from Nier: Replicant. The young scanner unit in Nier: Automata, 9S, will also receive a special costume, as well, in the oddly named "3C3C1D119440927" DLC.
The costumes can be used while engaged in battle against the CEOs of Platinum and Square Enix, and they even released a video showing just how much of a tough guy Matsuda is during the fight. It's quite similar to when Matsuda was used as a special boss in Final Fantasy XV's special holiday DLC pack. During the fight, however, Keinichi Sato joins in on the action, and the duo of Japanese executives begin tag-teaming the player by shooting lots of giant heads as projectiles... it's their own heads, by the way.
The fight against the executives somewhat mirrors the fight earlier in Nier: Automata against two other bosses, Adam and Eve. The only difference is that the CEOs are extremely powerful, clocking in at level 85, and they're no pushovers.
The DLC goodness doesn't end there, though. Polygon is reporting that, during a live-stream, the developers revealed that there will be additional cosmetics added to the game that players can unlock for both the female protagonists, 2B and A2. This will allow you to decorate and customize their hair-colors, almost as if you were at a salon in The Sims. They will also include new masks for both characters, and new decals for enemy projectile fire.
What's more is that Nier: Automata content will also be made available in Gravity Rush 2. They have plans on porting over 2B's Lolita-Gothic outfit complete with the scanner eye-band over to the 3D platformer, giving Kat an opportunity to cosplay the outfit and look like the humanoid android from Nier.
The DLC is expected to launch on May 2nd in Japan for 1,500 yen. That comes out to around $13 in USD, but they usually like keeping DLC prices around the $15 mark, so don't be surprised if that's what it'll cost you when the Nier: Automata content heads West.
Unfortunately, we don't have a release date on when the new DLC will be made available for those outside of Japan.
Your Daily Blend of Entertainment News
Staff Writer at CinemaBlend.
Your Daily Blend of Entertainment News
Thank you for signing up to CinemaBlend. You will receive a verification email shortly.
There was a problem. Please refresh the page and try again.