Somebody Is Making A Documentary About GoldenEye 007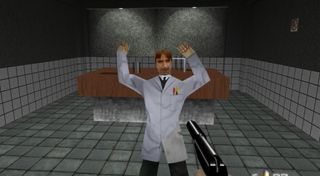 (Image credit: Nintendo)
One of the classic first-person shooter games that literally popularized FPS titles on home consoles back in the 1990s, will be getting its own documentary. That's right, somebody is actually making a documentary about Rare's GoldenEye 007.
Over on the IndieGoGo page, there's a campaign currently running that sees a small documentary team from Melbourne, Australia attempting to raise $85,000 in order to bring the film to life.
The documentary team plans on spending the next month raising funds in order to provide a visual history of GoldenEye 007 from the lauded N64 era. They plan on interviewing members of the design team, as well as talking with writers and journalists from Good Game, IGN, Kotaku, and GameSpot.
They outline what their goals are for the film and what they will attempt to achieve in their pitch video, which you can check out below.
They explain that they will cover how Rare -- who at the time was a small group of inexperienced developers -- attempted to change the industry by crafting an all new way to play a shooter game on a home console.
All before GoldenEye most console action titles were side-scrollers and poor ports of games like Wolfenstein 3D and Doom. After GoldenEye 007 launched for the N64, it spawned a wave of copycat clones and helped push the genre forward on home consoles, including paving the way for Microsoft and Bungie to launch Halo: Combat Evolved on the OG Xbox back in 2001.
The IndieGoGo page notes that they'll be covering the game's evolution in development, from back when Rare had originally decided to make a 2D platformer and even juggled around the idea of making an on-rails shooter.
The documentary will also cover the relationship Rare had with Nintendo, as well as the technical challenges they faced in attempting to craft a full-fledged first-person shooter on the N64, all in an attempt to compete with high-end PCs -- who at the time had advanced games like Duke Nukem 3D, Quake, Heretic and Hexen -- and gunning to usher in a brand new audience for Nintendo's home console.
Of course, no documentary about GoldenEye would be complete without touching on the multiplayer aspects of the game that helped shape the game's lauded local split-screen gameplay.
For those who pledge at least $15 to the IndieGoGo campaign, they will offer you one stream viewing of the documentary. If you pledge at least $25 you'll not only get a stream of the movie but also a digital download copy for you to keep.
The Rollercoaster Films crew have plans on completing the project by fall of this year, and they hope to get the final film out for backers by October, 2017.
Staff Writer at CinemaBlend.
Your Daily Blend of Entertainment News
Thank you for signing up to CinemaBlend. You will receive a verification email shortly.
There was a problem. Please refresh the page and try again.