Nintendo's Super Bomberman R Has Made Some Improvements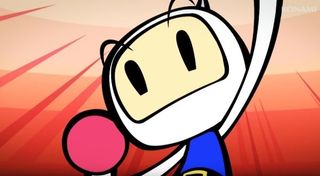 (Image credit: Konami)
One of the launch titles for the Nintendo Switch was the highly under-marketed Super Bomberman R from Konami. The company may be going through a perpetually negative marketing phase with gamers over the Kojima incident, but they're still committed to improving their games.
According to Gamespot, the latest 1.3 update patch for Super Bomberman R adds a number of new features to the game, as well as improves a lot of the gameplay mechanics and online play.
For instance, they've improved the frame-rate across the entirety of the game, for both the single-player and the multiplayer modes. They also made some slight adjustments to the controls to improve input latency. As some of you may know, poor frame-rate can drastically affect the controls of a game, including how well the controls respond when inputs are applied. Usually, input latency is affected most when a 60fps game drops nearly 20 frames, or when a 30fps title drops down below 20fps. According to the patch notes, Konami has adjusted these issues to remove possible frame-rate inhibiting moments during the new Super Bomberman game.
And speaking of lag and latency... they also note that they've improved online play so fewer lag spikes are likely to take place when playing online. They've also added more options to better improve finding opponents to play online with who have a good internet connection.
Other basic QOL features were also included, such as being able to modify the game's difficulty settings for the AI opponents during multiplayer battles, and they've also tweaked some of the bosses during the game's story mode.
They also reduced the difficulty of the normal and beginner modes in Super Bomberman R so that you won't have to exercise the skill levels of a Dark Souls player in order to conquer the game on beginner or normal.
They made a few visual modifications to the levels to improve slopes and visibility on the maps. They also addressed a few other small issues that plagued the overall playability experience in the Bomberman game as well.
Some gamers in the comment section are stating that the community is reporting that instead of the average frame-rate being around 30 most people are saying that even when things get congested it can maintain 60fps, which is a vast improvement.
Nintendo Switch owners will also be treated to some new DLC for the game, including crossover content from other Konami games such as the iconic Pyramid Head from Silent Hill and Vic Viper from Gradius. They also have some Castlevania themed content on the way featuring Simon Belmont.
It's surprising that Konami is just now realizing that they can leverage their other properties in a Bomberman game because it seems like they would have been lining up all sorts of crossover content for the multiplayer title once it hit store shelves.
Super Bomberman R is available right now for the Nintendo Switch, and the patch should be ripe and ready for anyone who has access to an internet connection.
Your Daily Blend of Entertainment News
Staff Writer at CinemaBlend.
Your Daily Blend of Entertainment News
Thank you for signing up to CinemaBlend. You will receive a verification email shortly.
There was a problem. Please refresh the page and try again.