Rick And Morty: Virtual Rick-Ality Trailer Gives Us Everything We Want In VR Gaming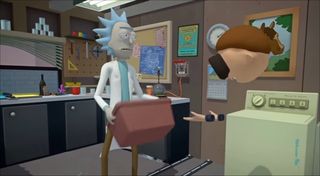 We knew that a new game was in the works based on the Rick and Morty television show, and we already knew it was in development from Owlchemy Labs, but now we have some brand new gameplay that shows us everything we could have ever wanted out of VR gaming.
The trailer was posted up over on the official Adult Swim YouTube channel, featuring a minute and 30 seconds of Ricktastic action for the recently launched title.
The game is officially titled Rick and Morty: Virtual Rick-ality. The trailer is all sorts of crazy given that it's a meta-commentary on the Rick and Morty show.
The trailer starts by showcasing a string of ridiculous things you can do in the Rick and Morty VR game, including using a laser pistol to shoot bottles, a Frisbee to throw around, and various objects to pick up and interact with throughout Morty's house.
We get to see the player looking in the mirror, fiddling around with Rick's tools in his garage workshop, and even interacting with another Morty doppelganger.
What's crazy is that the trailer then zooms out of itself and we see that Rick and Morty are watching the trailer based on the show that they star in. Rick explains that he licensed out their likeness for a VR game for HTC Vive and Oculus Rift owners, giving the developers Owlchemy an opportunity to experiment with a project based on their lives. As I said... it gets meta.
The thing is, Morty proceeds to question Rick about what the game has to offer and what sort of features are present within the title. It's a little like an expected challenge that the average viewer might lay upon the developers when asking what can you actually do in the Rick and Morty: Virtual Rick-ality game?
Well, they attempt to showcase some actual action sequences... where VR Morty finds himself with the other Morty and Rick on a foreign alien world. VR Morty is then tasked with shooting and killing all the flying aliens hovering around. We also see some ridiculous mini-games that involve closing out tabs on the computer screen. We see Morty out in space attempting to fix a satellite, as well as a control panel popping up in Rick's garage that looks to require some sort of complex mechanisms to get working.
Rick and Morty: Virtual Rick-ality seems like the sort of game that knows exactly what it is, and it doesn't shy away from poking fun at the idea that the game is actually just a VR gimmick.
Players will have to go through a number of tasks as a virtual clone of Morty, and Owlchemy seems to have taken a lot of what they learned from working on Job Simulator and applied it to Rick and Morty.
The game is available for the HTC Vive and the Oculus Rift right now for $29.99. You can pick up a copy from either the Steam store or the Oculus store.
Your Daily Blend of Entertainment News
Staff Writer at CinemaBlend.
Your Daily Blend of Entertainment News
Thank you for signing up to CinemaBlend. You will receive a verification email shortly.
There was a problem. Please refresh the page and try again.