New Smite Patch Adds An Unexpected Skin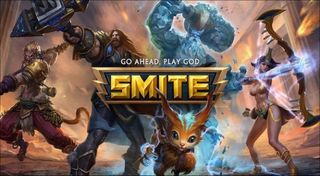 Hi-Rez Studios' Smite is a really popular game. It's one of the few MOBA titles out there that not only managed to find an audience, but also keep its audience engaged across the PC, Xbox One and PS4. Well, one of the ways they're keeping audiences engaged is with skins... and the latest skin is completely unexpected.
Gamespot is reporting that the newest addition to Smite is someone you never would have guessed would have joined the roster in a million years: Bob Ross.
The late painter was a huge inspiration for a lot of people with his show The Joy of Painting With Bob Ross on PBS. He was so inspirational, in fact, that Twitch streamed his show on their platform, and there's even a fake version of Bob Ross on Twitter who gives out helpful, zen-like tips for game developers.
Hi-Rez decided to join in on the fun, and they added the legendary painter to Smite as a skin for Sylvanus. He appears on the back of Sylvanus with his easel, his iconic afro and his jeans and button-up denim shirt. Hi-Rez added the ability to throw paint at enemies, keeping in line with the theme of the skin.
They also went a step further, and added in some voiceovers for Bob Ross to really help bring the Smite skin to life. YouTube outlet Smite HQ offered a skin spotlight that covers some of this voice lines, his attacks and a preview of how the skin looks in the game. Check it out below.
Bob Ross joins the PC version of the MOBA starting May 9th, and then later on the skin becomes available on May 16th for the Xbox One and PS4.
According to Gamespot, there's an entire bundle that will be part of the update starting May 9th. Hi-Rez managed to strike a deal with the estate and not only include the Bob Ross skin, but also a jump stamp, a special loading frame and loading screen, along with the voiceover and skin. The bundle will be available for 700 gems or for $10.
The comment section is just a bit confused about the addition of Bob Ross to Smite. I can't really blame them. The addition is being called "random" and it really is. Even still, it's a funny random addition to the game.
I think this probably would have been more poignant as an anniversary addition in celebration of Ross' show or PBS or something, but it does seem to come out of no where. Even still, I'm sure this would be a great way to bring a lot of Bob Ross fans to Smite. I don't know how well it would work, but with the right marketing campaign it just might really benefit Hi-Rez in the long run.
As mentioned, you can look for the patch containing the latest update for Smite to go live first on PC starting May 9th and then later on home consoles on May 16th.
Your Daily Blend of Entertainment News
Staff Writer at CinemaBlend.