The Far Cry 5 Launch Trailer Is More Than A Little Disturbing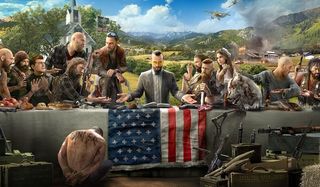 Ubisoft has finally pulled back the curtain on Far Cry 5, revealing that players will be visiting an unexpected locale this time around: The good ole' U.S. of A. The official trailer has also gone live, and it's already sparking a bit of debate.
In Far Cry 5, players will be taking on the role of a junior deputy in the fictional Hope County, Montana. That location is a (if you'll forgive me this once) far cry from previous games, where we've usually been tasked with heading to exotic locations in order to blow up their towns and murder the locals. It turns out that setting this latest game in the United States and having players take out a murderous religious cult is ruffling a few feathers, though we figure Ubisoft knew exactly what they were getting themselves into.
The latest Far Cry game is set to arrive next year, launching on the PlayStation 4, Xbox One and PC Feb. 27, 2018. As is frequently the case these days, folks gaming on PlayStation will get some sort of unnamed special content at launch, while gamers on other platforms will have access to said content through the Ubisoft Club.
In the latest press release from Ubisoft, they explain that the player's arrival in Hope County somehow accelerates the actions of a doomsday cult known as the Project at Eden's Gate. These guys are open to newcomers and, if you're not willing to join, it looks like they're just as likely to force you to convert as bury you six feet under.
Obviously, your character isn't so keen on this whole hostile takeover business, so your job will be to help build a resistance while taking out the baddies. This is 'Merica, so you better believe you'll be fighting bears, whacking folks with sledgehammers, driving muscle cars and listening to a whole lot of yee-hawing. You can also fly a plane through the county and even take part in dogfights against the enemy. The first thing Far Cry 5 is going to need to do is explain to me how, with all of these pick-em-up trucks, boats, ATVs and planes, nobody has hit the road and gone for, I don't know, some sort of military support. I doubt "we defend our own" is going to be be enough for our suspension of disbelief.
Anyway, the general reaction to this latest trailer for Far Cry can probably best be described as a lot of awkward looks from side to side. Traveling to far-off destinations and murdering the local folk has been fine for years now. Apparently a lot of folks are drawing a line when the story of one of these games hits a little too close to home. In a world where we're constantly hearing about religious radicals, it seems that the thought of that happening in our own back yard and being orchestrated by locals is a bit too uncomfortable for some.
We're not weighing in on the matter, just explaining why the Far Cry talk has been so divisive these past 24 hours.
Staff Writer for CinemaBlend.