NBA Playgrounds Apologizes For Lack Of Switch Online Play With A Free Game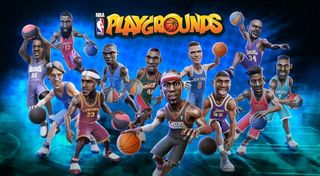 Saber Interactive and Mad Dog Games may have been able to launch NBA Playgrounds across various platforms and with a cache of features. The only problem is that some of the promised features for Nintendo Switch players didn't make the cut, so the developers are promising a free game for the trouble. What's the free game? Saber Interactive's Shaq Fu: A Legend Reborn.
A Facebook post from Saber Interactive outlines that they managed to launch the game and it mostly fit the expectations of players, save for one big omission on the Nintendo Switch: it didn't have online multiplayer. I don't know how a feature like that managed to escape the developers or what QA was doing to make such an oversight, but it happened.
For people playing locally this wasn't that big a deal, but for gamers out there who wanted to take their 2-on-2 NBA street court skills online to see what their mettle was like against those playing from around the world, it wasn't possible on the Nintendo Switch.
The other consoles had their own troubles, including game balancing, shot mechanics, and a lack of friends mechanics and online tournaments, but Saber Interactive was quick to issue a patch to rectify many of those shortcomings, including upping the performance on the home console and PC versions, and ensuring that new players could enjoy it.
Nintendo Switch owners, however, were given a special gift as an apology for having to endure not being able to play NBA Playgrounds online. This includes receiving a free copy of the new Shaq Fu beat-'em-up game when it launches later this year in the fall for home consoles and PC.
Shaq Fu: A Legend Reborn was originally crowdfunded through IndieGoGo, with gamers contributing their funds to the coffers of Saber Interactive in order to make the legitimate sequel to the original Shaq Fu, which came out back in 1994 for the old 16-bit systems like the Sega Genesis.
The new game isn't a one-on-one fighting game like the old title, though. The upcoming Shaq Fu is a beat-'em-up game similar to the likes of Streets of Rage or Final Fight. Players will battle through a series of enemies in a tongue-in-cheek adventure as the basketball legend Shaquille O'Neal, donning a number of cool and ridiculous outfits and upgrades through power-ups, while battling against supernatural forces.
Despite being independently funded and coming from a small team at Saber Interactive, the game actually looks pretty decent based on what they've showcased so far. They only recently announced that it was coming to the Nintendo Switch, and for anyone who managed to purchase NBA Playgrounds on the Switch before the latest patch arrives will be eligible for receiving a free copy of Saber Interactive's upcoming game this fall.
The only issue is that it hasn't quite worked out how players will receive free copies of Shaq Fu yet. Saber Interactive will work out the logistics, however, and find a way to deliver the game freely to Nintendo Switch owners because it wants to do right by Switch owners.
Your Daily Blend of Entertainment News
Staff Writer at CinemaBlend.
Your Daily Blend of Entertainment News
Thank you for signing up to CinemaBlend. You will receive a verification email shortly.
There was a problem. Please refresh the page and try again.