Final Fight: Double Impact Release Date And Pricing Info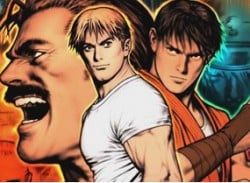 The dual pack of classic arcade games including Final Fight and Magic Sword will be arriving on April 14th for Xbox Live users and PlayStation Network subscribers. And if you're still wondering what the pricing will be for both games, just know that you won't be paying an arm and a leg for these games because they'll carry the bargain-bin price of $9.99 or 800 MS Points.
According to the press release…
Both games will be running on "GGPO" tech that will allow gamers to easily and conveniently voice-chat and drop-in on games no matter who is playing or where. So that's a cool way to put a spin on two old-school classics.
You can learn more about the Final Fight: Double Impact bundle by visiting the Official Capcom Website.
Your Daily Blend of Entertainment News
Staff Writer at CinemaBlend.
Your Daily Blend of Entertainment News
Thank you for signing up to CinemaBlend. You will receive a verification email shortly.
There was a problem. Please refresh the page and try again.