How The Shadow Of The Colossus Remake Is Different On The PS4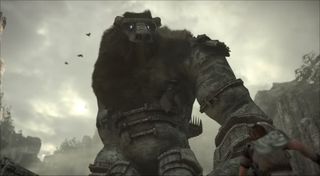 (Image credit: Sony)
During the E3 press conference for the PlayStation brand one of the surprise entrants that popped up during the conference was Shadow of the Colossus for the PlayStation 4. The even bigger reveal was that the game is not simply a remaster of the old PS2 classic.
During an interview with Famitsu, Sony's worldwide studios president, Shuhei Yoshida, spoke a little bit about the upcoming Shadow of the Colossus for the PlayStation 4. Siliconera offered a translation of the interview where Yoshida explained that the upcoming title isn't just a remaster of the old game but it's actually a complete remake for the PlayStation 4...
This may have thrown some gamers for a loop because the trailer during the E3 presentation was mostly focused on the Colossus that gamers were completely familiar with from the original PlayStation 2 exclusive. The combat looked the same, the attacks looked the same, the environments looked familiar, but everything was actually upgraded, and cleaner, and the animations were a lot smoother.
Typically when we see remastered games you get the exact same game just with higher anisotropic filtering, higher resolution for the games, and oftentimes smoother frame-rates. However, with remakes, it's about completely redoing the game from the ground-up using newer generation technology, but keeping the gameplay experience exactly the same as it was back when it first launched.
Yoshida explains that this is the approach that is being taken for the remake of Team Ico's classic third-person action adventure game. It's the same game but running on completely new and upgraded technology with new and upgraded assets, smoother input latency, smoother frame-rate and higher-resolution output. The game's controls are also being redesigned.
It's an interesting approach because we recently had Sony chief financial executive Jim Ryan sort of smack-talking backward compatibility saying that it wasn't a very used feature and that the old games look terrible on the PSX and PS2. And yet one of the premiere games coming to the PS4 is a classic PS2 title. While some of the stats showed that play-time from XBL users (when they were online) wasn't very high for backward compatible titles, Phil Spencer did reveal that more than half of all Xbox One users have used backward compatibility.
One could interpret Ryan's comments that backward compatibility is less sought after by Sony because remaking or remastering games is a more lucrative option in the long run from a business standpoint. In this case, we'll see just how well that strategy works out when the remake of Shadow of the Colossus launches in 2018 for the PS4.
Your Daily Blend of Entertainment News
Staff Writer at CinemaBlend.