Heavenly Sword CGI Movie Releases This Fall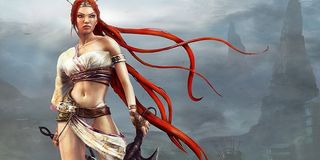 The Heavenly Sword animated film finally has a release date, due to hit DVD, Blu-ray and digital markets this Sept. 2. So, while fans of the ill-fated PlayStation 3 exclusive may not be getting their sequel, at least more folks can now experience the story of Nariko and her quest to harness a legendary weapon and save her homeland from an evil warlord.
Honestly, the above paragraph is something I wouldn't have been too shocked to write back in, say, 2008, a year after Heavenly Sword originally released. Now, though, all these years later, it feels odd to be talking about a game that was a commercial flop and only received lukewarm critical praise.
I actually quite liked Heavenly Sword, even though it was fairly panned for being quite repetitive and (for the time) uncommonly short. The game weighed in at around five hours and, shortly after the launch of the new console generation, those kinds of runtimes weren't exactly common place yet.
It became obvious pretty quickly that developer Ninja Theory would not be working on a sequel, going on to make the similarly received Enslaved: Journey to the West and the more recent DMC: Devil May Cry. I don't know why Ninja Theory can't seem to catch a break, especially considering the fact that their games look nice and offer action-packed, combo-heavy gameplay, but the players have so far been unwilling to budge on the matter.
Anyway, despite the fact that we're talking about a game that's nearly a decade old and, other than its revolutionary visuals bolstered by motion capture, one that didn't make a heck of a a lot of waves, Sony announced a while back that a Heavenly Sword movie would eventually see the light of day; one that retells the story of Nariko and her epic quest.
"A dramatic tale of revenge, Heavenly Sword centers on Nariko, a trained warrior with flaring red hair, who gracefully possesses a titular, heavily sought after blade with incredible powers," reads the statement from Sony. "As the sword's guardian, she must face a megalomaniacal ruler, King Bohan, and his unyielding army, who are determined to obtain the powerful sword for their own manipulation."
The cast will include the original voice of Nariko, Anna Torv, as well as Alfred Molina and Thomas Jane. When the physical versions of the film release this fall, they'll include behind-the-scenes interviews with the cast and crew, as well as other bonus features. It'll set you back $14.93 on DVD and 20 bucks on Blu-ray.
I'm still a bit befuddled by all of this, but it's not like I'm going to complain about having more Heavenly Sword in my life. I'm just not sure who, exactly, the supposed audience for this film is after all of these years. But, hey, maybe it'll do well enough to convince Sony to work with Ninja Theory on a proper sequel, yeah?
Your Daily Blend of Entertainment News
Staff Writer for CinemaBlend.